Rachel McAdams Offered 'True Detective' Lead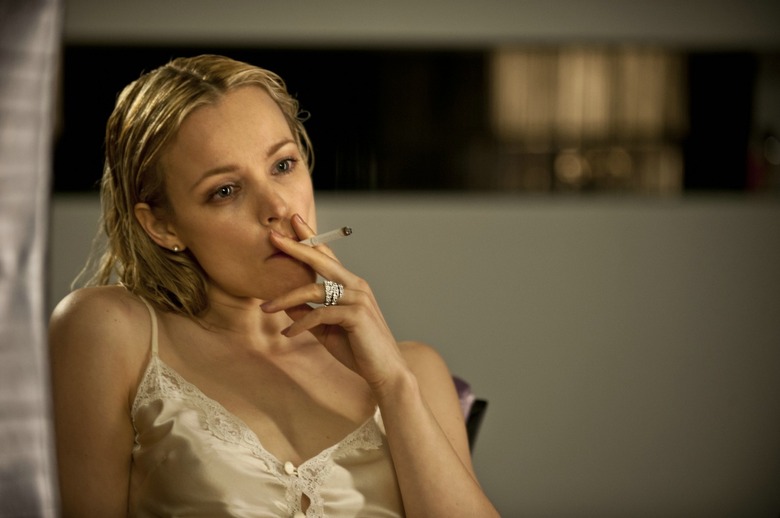 With Colin Farrell and Vince Vaughn locked as the two primary leads for True Detective season two, Nic Pizzolatto and the rest of the show's producers at HBO are starting to set the rest of the cast. We've heard quite a few names for the many female roles in the show, and now Rachel McAdams has been offered the female lead in True Detective season two. 
Variety reports the offer, which was rumored days ago, and says that McAdams is "said to be locking down the female lead role." The part has been rumored to be Ani Bezzarides, "a no-nonsense Monterey sheriff who had a tough childhood and now struggles with gambling and alcohol addictions."
Beyond that trio of Farrell, Vaughn, and McAdams, Taylor Kitsch is likely to take the fourth lead role — that would cement the core cast.
Many other actresses have been named as possible additions to the show, some of whom were in contention for the same role McAdams is said to have locked. They include Elisabeth Moss, Rosario Dawson, Jessica Biel, Malin Akerman, Jaimie Alexander, Brit Marling, Oona Chaplin, and Kelly Reilly. Whether any will end up with other parts in the show remains to be seen.
Rachel McAdams True Detective
Beyond that, here's what we know about the second season, as reported by Peter this week:
Justin Lin will direct only the first two episodes, so unlike the first season, this season will have multiple directors.
The story will follow "Three police officers and a career criminal must navigate a web of conspiracy in the aftermath of a murder."
Colin Farrell will play Ray Velcoro, a "compromised detective whose allegiances are torn between his masters in a corrupt police department and the mobster who owns him."
Vince Vaughn will play Frank Semyon, a "career criminal in danger of losing his empire when his move into legitimate enterprise is upended by murder of a business partner."
The second season will be comprised of eight hour-long episodes.
True Detective season 2 will begin production in California later this fall.
McAdams will be in a couple other projects hitting in 2015, including Cameron Crowe's new film, and boxing film Southpaw with Jake Gyllenhaal.