'Timecrimes' Director Nacho Vigalondo Has Written An Old-School Kaiju Movie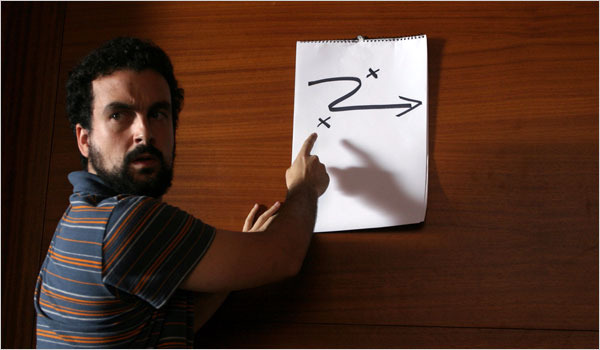 Why should Gareth Edwards and Guillermo del Toro have all the fun? Nacho Vigalondo set his status as a fave genre director with the excellent Timecrimes, and his new efforts Open Windows, with Elijah Wood and Sasha Grey, and a segment in V/H/S Viral, garnered praise over the past week at Fantastic Fest. And now Vigalondo has penned an "old school-style Kaiju script" that he hopes to make, driven by practical effects rather than CG. Get the interesting and even surprising details about the Nacho Vigalondo kaiju project below.
Vigalondo talked to Film Divider a few weeks back, in a conversation we'd missed until now. There, he explained that he wants to go back to the old "man in suit" approach to giant monsters. 
The script I finished and want to get financing for is a twist on the kaiju eiga genre, the Godzilla genre. It's going to be the cheapest Godzilla movie ever, I promise. It's going to be a serious Godzilla movie but I've got an idea that's going to make it so cheap that you will feel betrayed. You're going to be so frustrated by it, it's not even possible.
The way I wrote the movie – and I don't want to explain too much – I found a way that is honest and logical to make Godzilla in a costume, destroying cities, models all the time. I wrote the movie in a way that the story has a twist so it makes sense to do Godzilla this way and I'm going to try to be the guy inside the costume because I love filmmaking to the core and I'm a film love, one of dreams is not to direct a Godzilla movie but to be inside the costume and destroy the cities. I want to be the guy in the costume.
Yeah, that's right. Vigalondo doesn't just want to get the movie made; he wants to BE the monster. (Vigalondo is no stranger to appearing on screen, either. In Timecrimes, for example, he played the second lead character.)
And the director seems optimistic about the project, saying on Twitter,
My next movie will be a Old School Kaiju @dreadcentral http://t.co/oX39SZ3ut5

— EVIL VIGAS (@vigalondo) September 25, 2014