'Magic Mike XXL' Adds Andie MacDowell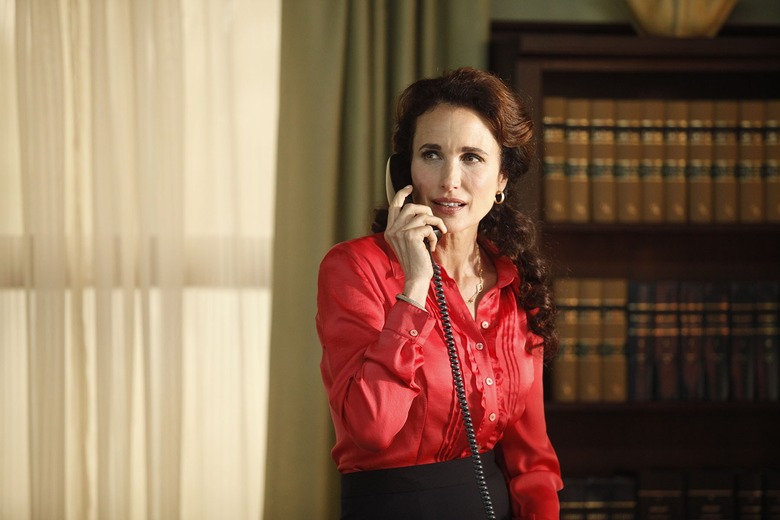 Magic Mike XXL is set to reunite most of the hardbodies from the first film, save Matthew McConaughey. But every sequel needs some fresh blood, and so Magic Mike XXL has just added its first new cast member.Andie MacDowell is set to board the new movie, joining Channing Tatum, Alex Pettyfer, Matt Bomer, and Joe Manganiello. Gregory Jacobs is directing and Steven Soderbergh is doing everything but. Hit the jump for more on the Magic Mike XXL Andie MacDowell casting.
The new movie will follow the guys on a road trip of some sort, but more specific details are being kept hush-hush. What we do know is that Tatum wrote the script with Reid Carolin (who penned the first film), and that Jacobs has promised it won't be just like the last one.
"What am I allowed to say?" Jacobs said in an interview this week. "It's a road trip movie and put it this way, it's different enough that once you see it you'll understand why we made a sequel. No one will be accusing us of making the same movie twice."
MacDowell has been acting steadily for the past thirty years, but her roles lately have been more low-profile. Currently she stars on the Hallmark drama Cedar Cove. Unless you watch the channel regularly, you probably didn't even know it existed. She is also shooting the indie drama Mother's Day.
Maybe she's hoping that by singing on to Magic Mike XXL, she'll jumpstart a McConaissaince of her very own. We're behind her 100% if that's the case. Second-unit shooting has begun on Magic Mike XXL already, but primary shooting won't begin until a bit later this fall. The film opens on July 1, 2015.