Video: Who Is Dwayne Johnson's Black Adam?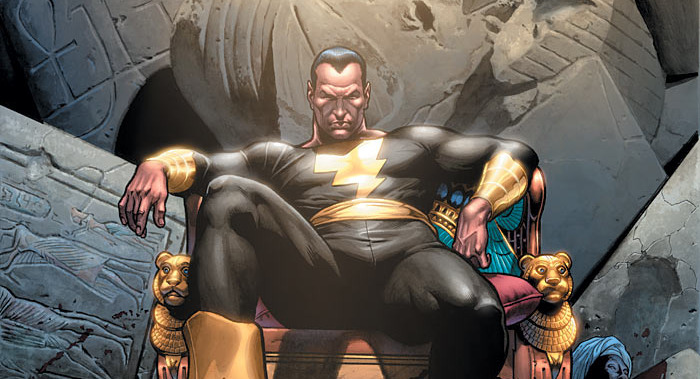 The Internet has been all abuzz over the news that Dwayne Johnson is finally set to play Black Adam in a Shazam movie, after years of rumor. But once the initial excitement over a Dwayne Johnson superhero movie wore off, some of us were left with questions — like "Wait, who is Black Adam, exactly?"
Luckily, there's a video now to give you the answer to that exact inquiry. Whether you're a DC Comics newbie just getting to know the universe, or a longtime fan who wants to brush up on your history, learn everything you need to know about Black Adam after the jump.
Video: Who Is Black Adam?
Black Adam is a character that doesn't fit neatly into "supervillain" or "superhero." He started out as a bad guy but has become more of an antihero, as Johnson's tweet notes. On the other hand, as Russ pointed out at the time, the violent image the Rock chose to accompany that announcement suggests we'll get to see plenty of Black Adam's dark side as well.
"Kneel at his feet or get crushed by his boot." My honor to become.. #BlackAdam #TheAntiHero #DCComics pic.twitter.com/Qk55eNf3R7

— Dwayne Johnson (@TheRock) September 3, 2014
Shazam has been in the works for several years already, with Johnson attached to star for much of that time. While it's not ready to shoot just yet, the project does seem to be picking up steam. Darren Lemke is currently writing the script, and Warner Bros. reportedly hopes to move ahead ASAP once he's done.
Interestingly, it does not look likely to link up to Warner Bros.' larger DC universe, which includes Man of Steel and the upcoming Batman v Superman: Dawn of Justice. Maybe it's just too entertaining for that gloom parade.