'Miss Meadows' Trailer: Is Katie Holmes The Most Unlikely Vigilante?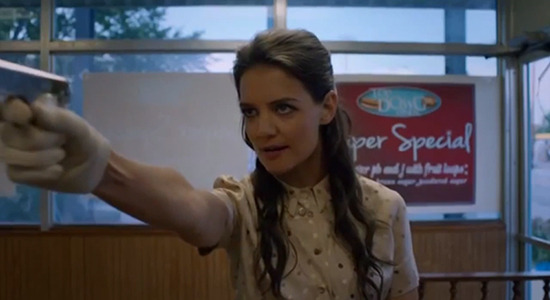 Katie Holmes is just about the last person you'd expect to see with a gun in her hand, angrily staring down violence in a small town. And that's probably a significant part of the reason she was cast in Miss Meadows, from writer/director Karen Leigh Hopkins. Holmes plays a small-town teacher who has a dark secret. She doesn't just teach manners to young kids; she also violently enforces them by night, with a pistol rather than a ruler. Check out the Miss Meadows trailer below.
It's weird to see some of the concepts of an exploitation thriller in the structure of what looks more like a middle of the road indie. Again, as with casting Holmes, that attention-getting schism is probably intentional. Whether or not it works is another story.
The film premiered at Tribeca, where The Playlist called it "legitimately out-of-control," and suggests that the script limits the effect of the film, which "seems to have no agenda beyond depicting a mannered young woman brandishing a gun and teaching proper manners." THR, meanwhile, said the film "doesn't have nearly the aim of its oddball title character in terms of hitting its satirical targets." So those sound like problems — and since the trailer gives off more of the vibe of a strange thriller than a satire, I wonder if any changes have been made since the festival premiere.
Miss Meadows opens on November 14. Trailer via E! Online.
Katie Holmes is a sweet and proper elementary school teacher whose perfect manners and pretty floral dresses hide a dark secret: when she's not teaching at the local elementary school or tending to her garden, she's moonlighting as a gun-toting vigilante.