Relativity Plans 'November Man' Sequel In Advance Of 'November Man' Premiere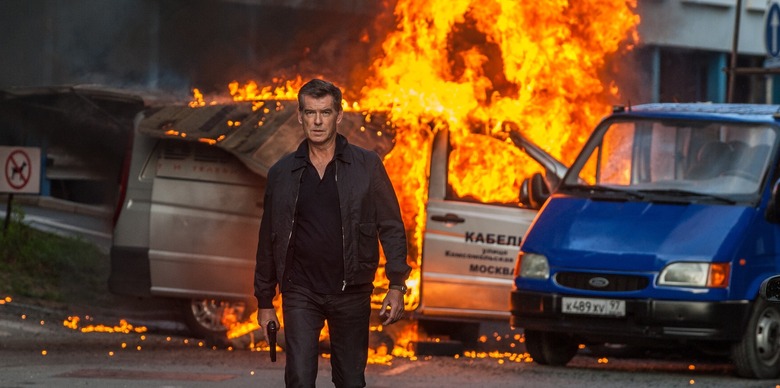 It looks like former 007 Pierce Brosnan has another action franchise on his hands. Relativity has just announced that it is moving forward with a sequel to Brosnan's The November Man, several days before the film's debut. Hit the jump for more details.
Although the studio states that it plans to enter pre-production "soon," how quickly the project moves — or indeed whether it moves at all — will surely depend on how The November Man fares at the box office when it opens next weekend.
It's no longer unusual for studios to declare plans for a sequel before the first film even opens. Marvel set a release date for Guardians of the Galaxy 2 days before Guardians of the Galaxy hit theaters, and the Divergent sequel Insurgent was on such a fast track that the Divergent director couldn't even keep up.
But it doesn't always work out. Last year, The Mortal Instruments sequel got as far as casting before weak box office returns threw all the plans into question. In other words, the November Man 2 announcement could be a well earned vote of confidence from the studio, but it could also just be a way to gin up some buzz.
Either way, it's not a guarantee that a follow-up will actually happen. Late August isn't the most promising slot on the release date calendar, but on the flip side The November Man won't have much competition. Ride Along took a similar approach earlier this year, opening in the doldrums of January, to good results.
Should all go well, Brosnan will reprise his lead role. He'll also return as producer, along with Beau St. Clair. No director, screenwriter, or other cast members have been announced at this point.
In a statement, Relativity president of production Robbie Brenner talked up the nascent franchise.
'The November Man' is a gritty series that re-invents the spy genre with its master Pierce Brosnan by combining the best elements of James Bond and Jason Bourne while echoing the cool, sleek action movies of the 70s. We are excited to launch 'The November Man' later this month and to continue to explore Peter Devereaux's dangerous world with Pierce over the years to come.
[Source: Coming Soon]