'Far From Men' Trailer: Viggo Mortensen Stars In A Western-Like Tale Of Survival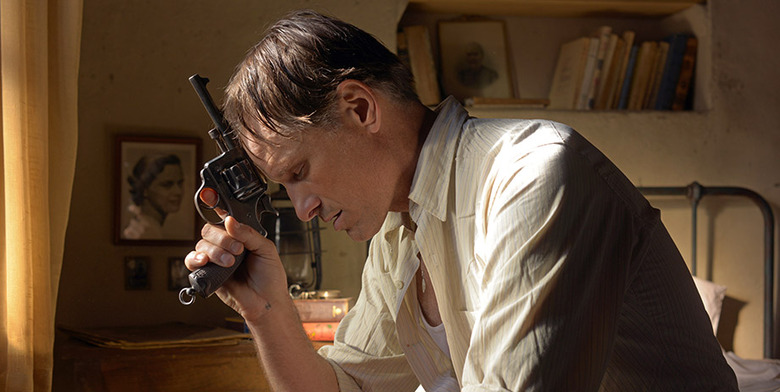 Viggo Mortensen has had a busy couple years, though he hasn't been doing Hollywood films. The Two Faces of January (trailer) and Jauja (trailer) have premiered recently in Berlin and Cannes, respectively. Now he's got a third film hitting a major fest this year. In Far From Men, French writer-director David Oelhoffen started with the Albert Camus short story The Guest to create what is, in many respects, a western — just one set in Algeria during the revolution of the mid/late 1950s. Check out the Far From Men trailer below.
Far From Men premieres soon at the Venice Film Festival before moving on to Toronto. Trailer via The Film Stage. Info below from TIFF:
The year is 1954, the Algerian War is beginning, and village schoolteacher Daru (Viggo Mortensen, also appearing at the Festival in Jauja), who formerly served with the French army, is caught in the crossfire. Born in Algeria but Spanish by lineage, he's a man out of time and place, perceived as alien by ethnic Algerians and their French colonizers alike. When Daru is ordered to escort a dissident named Mohamed (Reda Kateb, of Zero Dark Thirty and A Prophet) to a regional police garrison, he's prompted to question where his loyalties truly lie. That inquiry becomes all the more pointed as rebels and soldiers begin to clash, forcing Daru and his captive to form a tenuous alliance as they flee through the treacherous, wintry Atlas mountains.
Mortensen's abundance of rugged gravitas perfectly suits the frontier-drama genre; he gives a multi-faceted performance as a skilled man-at-arms who nonetheless prizes the path of peace. His work here is complemented by that of Kateb, whose sympathetic, complex characterization solidifies his growing reputation as one of the finest screen talents in France. Special mention is also due to composers Nick Cave and Warren Ellis (The Proposition, The Assassination of Jesse James by the Coward Robert Ford), who once again demonstrate their mastery of the modern western score. Their string-driven soundscape complements the stark grandeur of Oelhoffen's images, perfectly tapping into his gripping vision of existential crisis amid political and natural turmoil.