LOL: 'The Interview' MTV Special With James Franco And Seth Rogen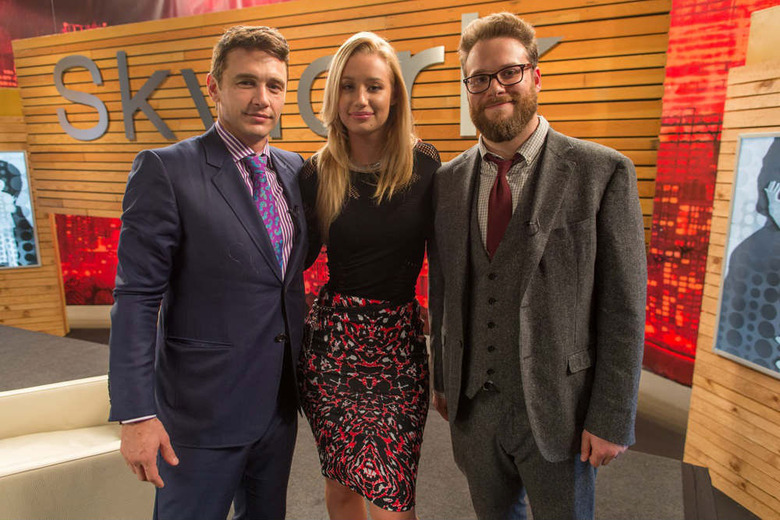 The trailer for Seth Rogen and Evan Goldberg's The Interview is pretty insane. In the film, a famous entertainment journalist and his producer get an exclusive interview with North Korean dictator Kim Jong-un. Before heading to the interview, the U.S. government asks the guys to assassinate the dictator.
So why the heck would this journalist, out of everyone, get this exclusive interview? Your first clue was on MTV over the weekend as James Franco's character, Dave Skylark, hosted a Very Special VMA Special featuring interviews with musicians Iggy Azalea, Jason Derulo and Nicki Minaj. Seth Rogen's producer character, Aaron, also plays a huge role in the special.
Watching this special, which runs 20 minutes long, you're sure not only to laugh, but totally get why the North Korean dictator of the film – which opens December 25 – would agree to the Interview. Watch The Interview MTV Special below.
Here's the Dave Skylark Very Special VMA Special, via MTV.com
The Interview MTV Special
Get More:
I love how annoying Skylark is. He's truly funny. I just worry if that character is going to be too much for a two hour movie. Certainly there will be a little less of this version of the character in the film, though. Plus we'll definitely get a dash of humanity and a hint at makes Dave Skylark like that. I trust in Rogen and Goldberg to know how to reign in this wild character they've created. But here, on his "show," he's all in.
The Interview opens December 25. Here's the official plot description:
In the action-comedy The Interview, Dave Skylark (James Franco) and his producer Aaron Rapoport (Seth Rogen) run the popular celebrity tabloid TV show "Skylark Tonight." When they discover that North Korean dictator Kim Jong-un is a fan of the show, they land an interview with him in an attempt to legitimize themselves as journalists. As Dave and Aaron prepare to travel to Pyongyang, their plans change when the CIA recruits them, perhaps the two least-qualified men imaginable, to assassinate Kim Jong-un.