Fredrik Bond To Direct 'Olympus Has Fallen' Sequel 'London Has Fallen'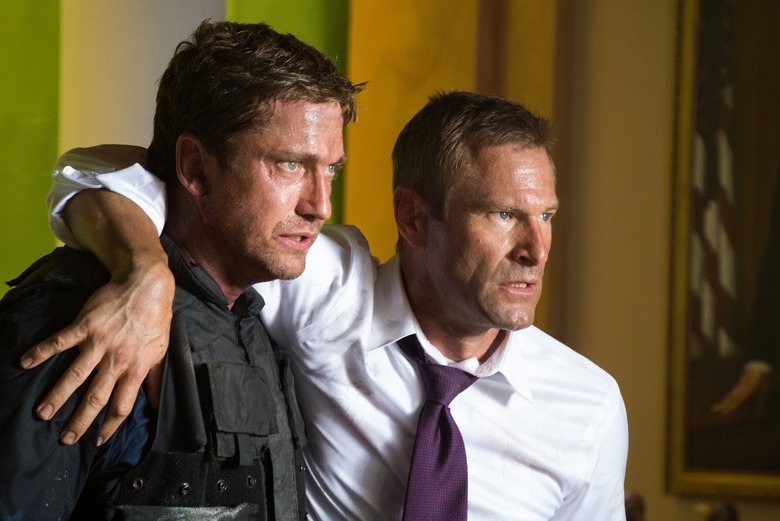 Gerard Butler recently bailed on the Point Break remake in part so he could concentrate on the Olympus Has Fallen sequel. Now that film has a director, as Fredrik Bond (Charlie Countryman) will call the shots on London Has Fallen. THR reports that Bond is in talks to is negotiations to make the sequel for Millennium. This time, as the title makes pretty clear, the action of the film won't be set in Washington, DC, but in London.
In addition to Butler, Aaron Eckhart and Morgan Freeman are set to reprises their roles from the original film, as the President of the United States and the Speaker of the House.
This time, in the script most recently drafted by Christian Gedegast, "a U.S. Secret Service agent (Butler), the U.S. president (Eckhart) and the speaker of the U.S. House of Representatives (Freeman) are attending the funeral of the British prime minister when all hell breaks loose (again)." That's per THR, and it certainly carries forward the "Die Hard in a..." structure by pointing right to a key line from Die Hard 2: "how can the same shit happen to the same guy twice?"   
Olympus Has Fallen was one of two "Die Hard in the White House" movies released in 2013, and the first of the two to hit theaters. It is also the only one of that competitive pair to earn a sequel (so far). Everyone seems to have an opinion as to which is better in the fight between Olympus Has Fallen and White House Down. They're both completely ridiculous, and I enjoy each for different reasons: Olympus had some super-grim violence, while White House Down was gleefully over the top. I assume we'll get more grim stuff out of this sequel.London Has Fallen will shoot in October.