Quentin Tarantino's 'The Hateful Eight' Trailer Debuts With 'Sin City 2,' Will Not Be Online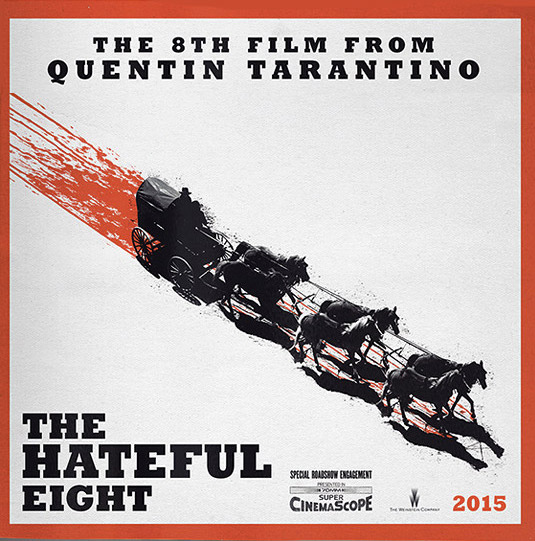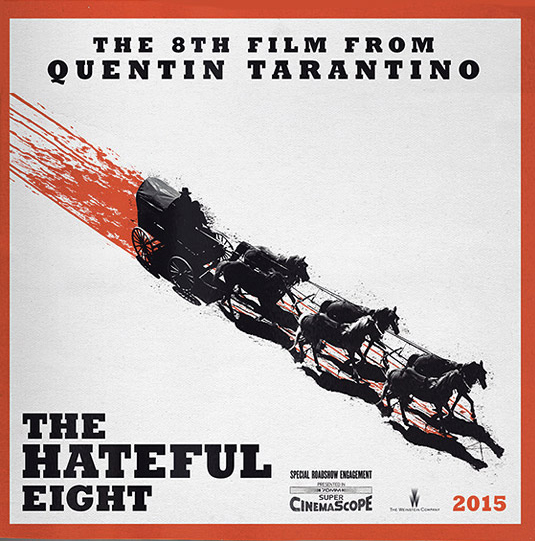 By all accounts, Quentin Tarantino hasn't even started to shoot his new film The Hateful Eight. There's already a poster, however, and now there's reliable info that a teaser trailer is in the can. Even better, several reports say that the Hateful Eight trailer release is set for next week, attached to Sin City: A Dame to Kill For. Trouble is, that's probably the only place you'll be able to see it for a while.
Sure, trailer news and rumors are somewhat lame, but when it's word on a trailer for a film that we thought might never be made? We'll take it, especially after the movie script was leaked, leading to the film being cancelled, then revived for a live reading.
More info on the Hateful Eight trailer release is below.
The source of the info is two-fold. One is the Alberta Film Ratings board, which regularly posts updates about trailers that have been classified for distribution in Canada, recently posted a listing for a Hateful Eight trailer with a running time of 1:40. That classification took place on August 11, and it's typically a week to ten days from the date of classification before a trailer shows up in theaters and/or online.
We've also had multiple theater employees contact us to say they've been sent info that the trailer will be enclosed with DCP distribution of Sin City: A Dame to Kill For. Poking around, we found that the Weinstein Company page with info for distributors has this info: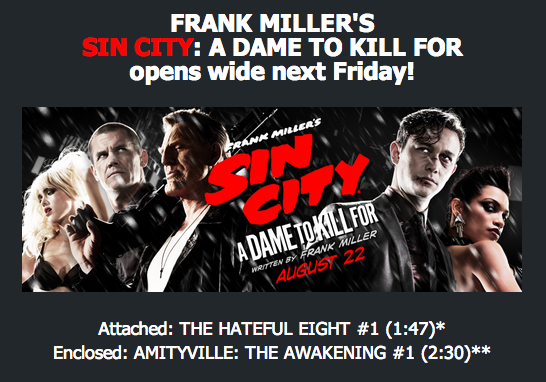 Furthermore, that page says the trailer will be available packaged with the Sin City: A Dame to Kill For feature only, and that it will not be online. It won't be online until the inevitable bootlegs surface, at least. The theater-only plan is a nice dream, but in reality it's unlikely to stick.
Note that the running time there is a different length than the trailer classification board reports. Different distributor cards on the US and Canadian trailers, together with the MPAA card, could account for the discrepancy. (The Amityville: The Awakening trailer was also just classified in Canada, and there's a similar discrepancy in running times between the info there, and in the pic above.)
Now, we know the film hasn't shot yet, so what's in the teaser? Good question! Possibly audio from the live-read of the script, or possibly footage shot specifically for this trailer. Or it could simply be a set of graphics and title cards announcing the film. Just don't expect anything in the way of actual scenes. (Update: A couple people on twitter claim to have seen the trailer, and say it is basically all title cards. )
As far as we know, the Hateful Eight cast includes Bruce Dern, Walton Goggins, Samuel L. Jackson, Michael Madsen, and Kurt Russell. Presumably the forthcoming trailer will clarify the final lineup.
Here's the film's synopsis:
The Hateful Eight follows the steadily ratcheting tension that develops after a blizzard diverts a stagecoach from its route, and traps a pitiless and mistrustful group which includes a competing pair of bounty hunters, a renegade Confederate soldier, and a female prisoner in a saloon in the middle of nowhere.