Sony Altering 'The Interview' To Appease North Korea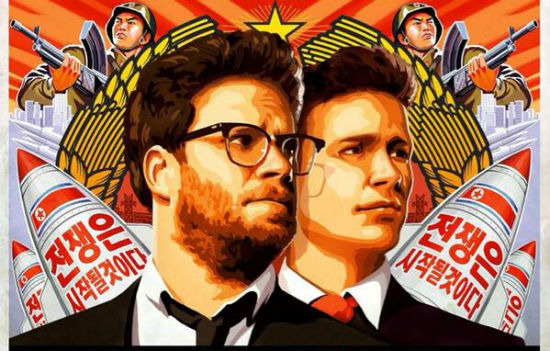 When North Korea started to kick up a fuss about The Interview — the film in which Seth Rogen and James Franco play TV news guys who are recruited to assassinate Kim Jong Un during an interview opportunity — Sony seemed to shrug. But as the country remains furious about the comedy, calling its release essentially an act of "sponsoring terrorism," it looks like Sony is having second thoughts. Some digital changes are being made to The Interview. One change is relatively small, but there's also a report of one graphic scene, which could have been one of the film's big attention-getting moments, being tossed entirely. (A spoiler warning might be in order for details of that scene.)
THR reports that buttons worn by military characters in the movie are being digitally changed, because the ones seen in the film as it is now are the actual buttons "worn by the North Korean military to honor the country's leader, Kim Jong Un, 31, and his late father, Kim Jong Il."
Not such a big deal there on our end. Changing the buttons is something that could be a big deal to North Korea, but won't matter much to audiences outside the country.
But Sony is also considering cutting entirely the film's "Raiders" moment, in which "the face of Kim Jong Un (played by Randall Park) is melted off graphically in slow motion." And with that sentence the Streisand Effect kicks into full gear. While I was game to see The Interview before, now I really want to see the face-melting scene. I didn't know there was a face-melting scene! And now we learn of it only by way of hearing that it could be cut?
Some of the changes reportedly come at the behest of Sony Japan, in the interest of improving and maintaining relations with its nearby neighbor. The face-melting scene is reportedly being judged for comic value, but who actually believes that it might be cut at this point for any reason other than keeping North Korea happy?
No word from co-directors Seth Rogen and Evan Goldberg about how the changes are being handled. When word came out that Kim Jong Un would probably watch the movie despite his ire over its very existence, Seth Rogen simply said "I hope he likes it!"
The Interview was originally set to hit theaters in October, but will now open on Christmas Day.