Watch 'Star Wars Rebels' Short 'The Machine In The Ghost'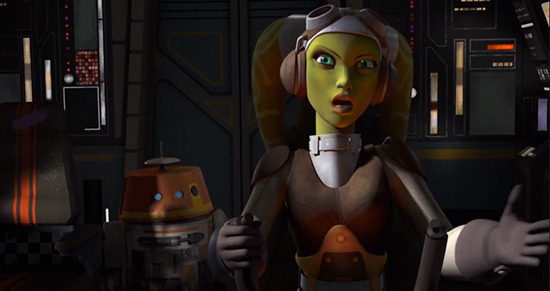 Here's a new Star Wars Rebels short, The Machine in the Ghost, to give you a taste of some of the characters from the new show. It's the first of four Rebels shorts that will premiere over the next few weeks. Originally meant to premiere tonight, the official Star Wars YouTube account is already running the three-minute story. You'll get to see a classic Star Wars dogfight, and learn about the droid that helps maintain the ship Ghost around which some of the series will be based. Watch the Star Wars Rebels short below.
Rebels bridges the time between episodes III and IV, and as such has reason to aspire to the aesthetic and storytelling characteristics of the original Star Wars. This short demonstrates that Dave Filoni, Simon Kinberg and crew have all that down. Visually, the dogfight that opens the short could be right out of A New Hope. And the title of the short clearly refers to Chopper, and the droid's role on the ship. Chopper's behavior is a bit more... human than we've seen from some other astromech droids, and I'm curious to see how that works out over the long run. The whole thing has a kids show vibe, but that's because it's a show for kids.
Germain and Peter loved the Rebels pilot when they saw it at Comic Con. My own exposure has been limited to the extended preview that went online not long ago, along with this short. But I like this material enough to be interested in Star Wars again for the first time in a long time. I've even started going back to dive into some recommended story arcs from The Clone Wars, just to catch up.
Via Star Wars. Scheduled to premiere in October 2014 as a one-hour special telecast on Disney Channel, Star Wars Rebels will be followed by a series on Disney XD.
In "The Machine in the Ghost," a special Star Wars Rebels short, the rebels' Ghost starship is under attack by a wave of TIE fighters. Hera pilots the craft, while Kanan tries to blast the Imperials from the Ghost's gunner. While they do evade and shoot down several TIEs, it's up to astromech droid Chopper to finish the job – even if he's reluctant to do so.