'Houdini' Trailer: Mini-Series Stars Adrien Brody And Kristen Connolly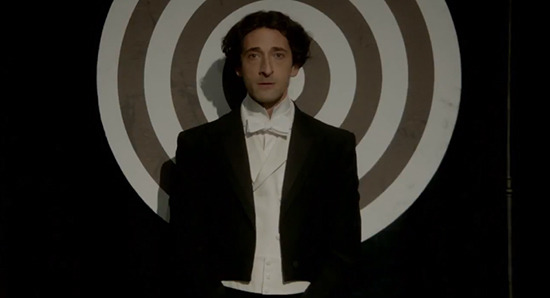 Can the History Channel manage to get all the intricate events of Harry Houdini's life into one two-part mini-series? We'll see what happens, but this first full Houdini trailer shows Adrien Brody as the performer, escape artist and opponent of spiritualism; Kristen Connolly (The Cabin in the Woods) co-stars as Bess, the woman who was Houdini's stage assistant, and eventually his wife, who outlived him by a significant margin. The trailer is like a highlight reel of Houdini's career, with some of his early work represented, as well as shots of his most significant stunts and escapes, and hints of his later work as a debunker of fake mediums and spiritualists.
Check out the Houdini trailer below.
Houdini will air in two parts September 1 & 2 at 9/8c on History. Trailer via YouTube.
Before David Blaine and David Copperfield, there was one man whose name was synonymous with being the master of illusion and escape – Harry Houdini. HOUDINI follows the man behind the magic as he finds fame, engages in espionage, battles spiritualists and encounters the greatest names of the era, from U.S. presidents to Sir Arthur Conan Doyle and Grigori Rasputin. The drama will chronicle the life of a man who can defy death through his stunts, his visions and his mastery of illusion.