Hormones Rage In First 'Saved By The Bell' Movie Clip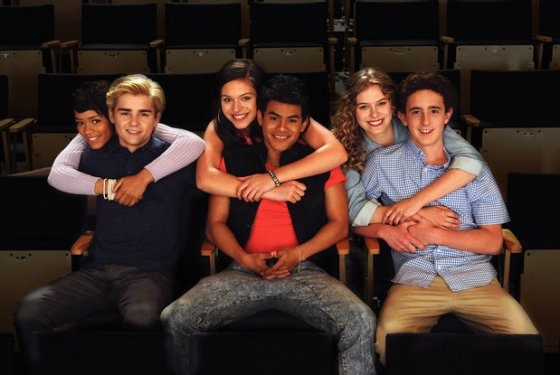 It's been over 20 years since the original Saved By the Bell went off the air (yes, you're old), but if you grew up in the '90s you probably still have some nostalgic affection for that show. So Lifetime is bringing us back to Bayside next month, sort of.
The cable network is currently putting together The Unauthorized Saved By the Bell Story, and like all good unauthorized stories it's packed with scandal, drama, and juicy gossip. Watch the first clip from the Saved By the Bell movie after the jump.
Off camera, though, it seems stars Mark-Paul Gosselaar, Dustin Diamond, Tiffani Thiessen, Mario Lopez, Lark Voorhies, and Elizabeth Berkley weren't so friendly. In fact, the new Saved By the Bell movie clip suggests some of these relationships were outright hostile.
Is it just me, or are all of the kids weirdly short?
Since this is all "unauthorized," we don't know if this is how things actually went down. But would it really be surprising if it were? We're talking about six young people high on fame and fortune. There's bound to be some idiocy going on.
The Unauthorized Saved By the Bell Story is reportedly inspired by, but not technically based on, Diamond's book Behind the Bell. The 2009 tell-all claimed that when the cameras weren't rolling, the stars were getting high and hopping in and out of bed with one another.
The made-for-TV movie stars Dylan Everett (Mark-Paul Gosselaar / Zack Morris), Alyssa Lynch (Tiffani Thiessen / Kelly Kapowski), Julian Works (Mario Lopez / A.C. Slater), Tiera Skovbye (Elizabeth Berkley / Jessie Spano), Sam Kindseth (Dustin Diamond / Screech Powers), and Taylor Russell McKenzie (Lark Voorhies / Lisa Turtle). Jason Pepeyre is directing.
The Unauthorized Saved By the Bell Story will air on Lifetime September 1.