Kate Mara Posts 'Fantastic Four' Selfie To Mark The End Of Filming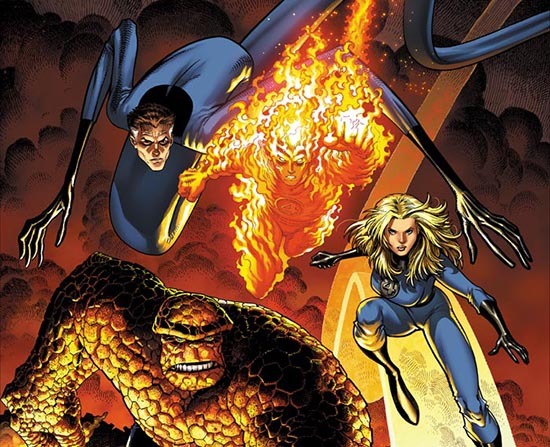 For a massive superhero reboot, Josh Trank's Fantastic Four had one of the quietest shoots in recent memory. Sure a few photos of the stars leaked here and there, and maybe even a glimpse of the Thing, but for the most part nothing has been spoiled by the press or paparazzi during filming. Which, these days, is a rarity.
So it's exciting when one of the film's stars, Kate Mara (who plays the Invisible Woman), jumps on Twitter not only to announce the film is finished, but post a photo of herself with her three co-stars: Mr. Fantastic played by Miles Teller, the Human Torch played by Michael B. Jordan and The Thing played by Jamie Bell.
They're all in street clothes unfortunately, so no reveal of the Fantastic Four costumes just yet, but it's a great shot none the less. Check out the Fantastic Four cast photo below.
Here's the tweet from Mara:
That's a wrap on #FantasticFour!
Thanks to my boys @Miles_Teller @michaelb4jordan @1jamiebell for the fun times... pic.twitter.com/7ZdgvlBsP3

— Kate Mara (@katemara) August 2, 2014
And here's a bigger version of the photo:
Fantastic Four cast photo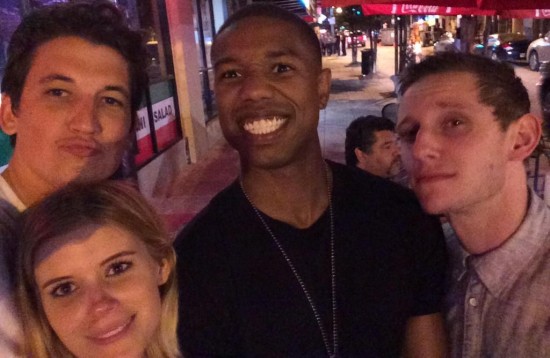 You've got to admit – great framing by the actress.
In regards to Fantastic Four though, here's my primary thought right now. The film finished shooting one week after Comic-Con. A Comic-Con where its distributor, 20th Century Fox, had a nice, long Hall H panel. In 2013, Bryan Singer brought the entire cast of X-Men Days of Future Past, and a trailer, to the convention. At that time that film was still in production (or had just very recently wrapped). That was a bold move. A stunning one, in fact, that created huge buzz and showed huge confidence in the franchise and the film. Everyone had doubts about how Singer would blend the new and old X-Men casts and that move answered all the fan questions.
Fast forward a year. We now know, as of last week, Fantastic Four was basically done. But it was not at Comic-Con. It didn't even get mentioned at Comic-Con. Maybe last weekend Trank and company had something scheduled that had to happen on those days. A location or effect that simply was cemented on the schedule. That's 100% possible. But, I'm skeptical that the massive superhero reboot, itself such a big question mark, didn't show up to win over the fans. It wouldn't have had to do much. A quick video message followed by a short teaser trailer. Just something to whet appetites. Alas, nothing. That raises some red flags.
Now that filming is over though, I'd expect we see a trailer before the end of the year. My guess? Attached to, and released online before, the release of Night at the Museum: Secret of the Tomb on December 19. And then, hopefully, all those questions will be answered. I still have lots of faith in Trank, Simon Kinberg and this cast. I want to love this movie when it comes out. What about you?
The Fantastic Four opens June 19, 2015.