'Birdman' International Trailer: Michael Keaton Was A Superhero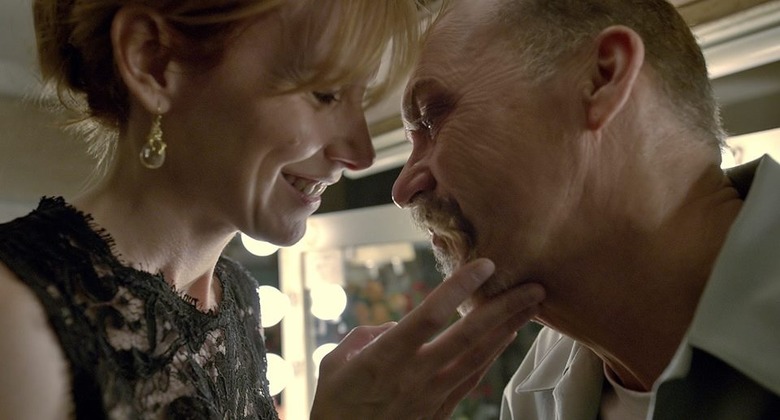 Forget Guardians of the Galaxy — this year's most unusual superhero movie has got to be Alejandro González Iñárritu's Birdman. Though to be fair, it's not so much a superhero movie as it is a superhero movie movie.
Former Batman Michael Keaton plays a washed-up actor who got famous years ago playing an iconic superhero. In a bid to recapture his former glory, he decides to put on a Broadway show. On his way to opening night, he struggles with everything from egotistical actors to an unhappy family to his own troubled soul. Watch the new Birdman international trailer after the jump.
The new trailer is longer than the last one and reveals a bit more of the story, but still captures that almost dreamlike mood. Frankly, everything about this looks promising. Birdman has an acclaimed director, a stellar cast (which also includes Ed Norton, Emma Stone, Amy Ryan, Zach Galifianakis, and Naomi Watts), an inspired premise, and a dark sense of humor.
Plus it's even kinda timely. Those hardbodies currently filling out the Marvel and DC stables can't stay there forever. Eventually, they'll age or price out of their roles and have to hang up their hammers or shields or Bat-cowls or what have you. If they're wondering what'll happen next, Birdman can offer them a rather pessimistic view.
Birdman hits the Venice and New York Film Festivals this fall before landing in U.S. theaters for a limited release on October 17.
BIRDMAN or The Unexpected Virtue of Ignorance is a black comedy that tells the story of an actor (Michael Keaton) — famous for portraying an iconic superhero — as he struggles to mount a Broadway play. In the days leading up to opening night, he battles his ego and attempts to recover his family, his career, and himself.