'Night At The Museum: Secret Of The Tomb' Trailer Takes The Series To Britain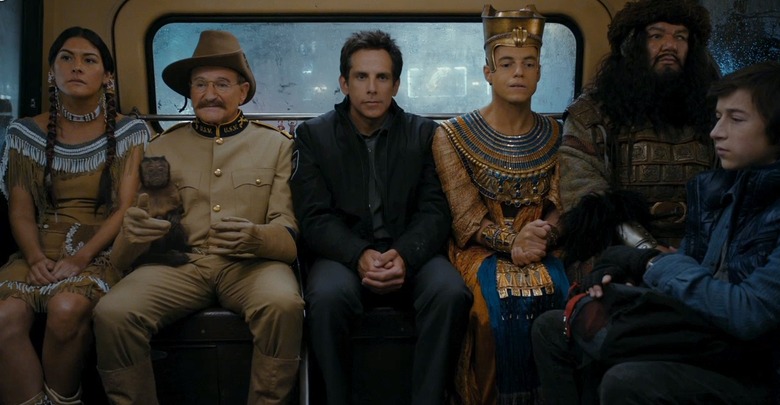 Everyone's favorite museum security guard is at it again in the Night at the Museum: Secret of the Tomb trailer. This time, Larry (Ben Stiller) and his pals are concerned that there's something wrong with the tablet that brings the exhibits to life every night.
This requires them to travel to the British Museum, where the tablet's creator (Ben Kingsley) resides, and where they get to meet, among others, the dashing hero Lancelot (Downton Abbey's Dan Stevens) and a very Rebel Wilson-y security guard played by Rebel Wilson. Hit the jump to watch the first Night at the Museum: Secret of the Tomb trailer.
As big studio franchises go, Night at the Museum is going at a downright languorous pace. It's been about five years since Night at the Museum: Battle of the Smithsonian, and the original Night at the Museum opened three years before that. Compare that to a lot of superhero and YA series, who race to get new installments out every year or at least every other year.
The new trailer looks pretty silly, but the jokes aren't as groan-inducingly corny as they could be. In a kids' movie, that counts as a win. Night at the Museum: Secret of the Tomb should appeal to the same family demo who made the first two installments a hit. And maybe also bring in some people who really miss Cousin Matthew on Downton Abbey.
Night at the Museum: Secret of the Tomb opens December 19, 2014. Ben Kingsley, Robin Williams, Owen Wilson, Steve Coogan, and Ricky Gervais also star.
Get ready for the wildest and most adventure-filled Night At the Museum ever as Larry (Ben Stiller) spans the globe, uniting favorite and new characters while embarking on an epic quest to save the magic before it is gone forever.