Sequel Bits: 'Pacific Rim 2', 'Ted 2', 'Jurassic World', 'Star Trek 3', 'Blade'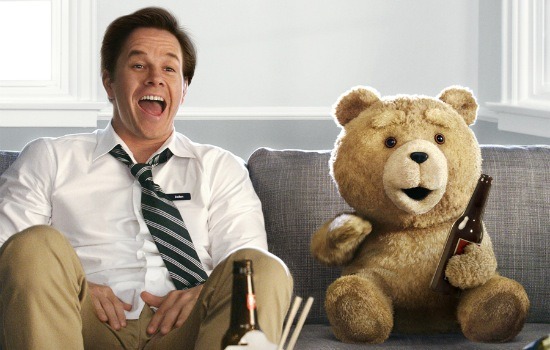 You want more of the kaiju world? You got it. Guillermo del Toro promises we'll see more of that in Pacific Rim 2, though not necessarily in the way you think. Also after the jump:
Street Fighter: Assassin's Fist is getting a sequel
Ted 2 has started shooting; see some set photos
Sherri Shepherd climbs aboard Ride Along 2
Zachary Quinto says Roberto Orci will direct Star Trek 3
Chris Pratt is so pumped for you to see Jurassic World
Wesley Snipes wants to hunt Twilight vamps in Blade IV
The new series will arrive in late 2015 or early 2016. That should give fans plenty of time to catch up on the last one, which hits DVD, Blu-ray, TV, VOD, and download-to-own October 28 in the U.S., the U.K., Australia, and New Zealand. [Polygon]
Universal has been dying for a Ted sequel ever since the first one came out, and now it's finally getting one. The Seth MacFarlane-directed comedy began shooting last week. /Film reader Aaron sent us some set pics, which you can see below.
@slashfilm #Ted2 is filming down the street from my house. pic.twitter.com/gp5chRxQz3

— Aaron King (@ATheKing88) July 29, 2014
@slashfilm pic.twitter.com/wUSeqEgCbq

— Aaron King (@ATheKing88) July 29, 2014
@slashfilm looks like they're using the archive section of my local library #Ted2 pic.twitter.com/Dya2ph4z5Y

— Aaron King (@ATheKing88) July 29, 2014
@slashfilm apparently they removed all the books from the archive and replaced them with law books for the scene

— Aaron King (@ATheKing88) July 29, 2014
Ted 2 opens June 26, 2015. [Studio System News]
Fresh off of a seven-year run on The View, Sherri Shepherd has booked a new job on the big screen. She's boarding the cast of Ride Along 2, joining Ice Cube, Kevin Hart, Ken Jeong, and Olivia Munn. Tim Story is directing. Ride Along 2 opens January 15, 2016. [Deadline]
Roberto Orci keeps emphasizing that the Star Trek 3 directing gig isn't his quite yet, but Zachary Quinto sounds pretty sure. "He is a cornerstone of what we built with that iteration of the franchise and I am looking forward to getting back to it," he said, stating that Orci "will direct." He also spoke about the series in more general terms.
The great thing about [the Star Trek] experience has always been that it has evolved and unfolded very organically and I think that is the case for where we are now. They are working on the script. They are taking it to the next level and I am sure within the next weeks and months we will get more information on when it is going to happen and what the story is. It is in formation mode now.
Star Trek 3 does not yet have a release date. [Sky via Trek Movie]
Wesley Snipes wouldn't mind having another go at the Blade series.
I'd be open to it. I think we've got some stones left unturned and there's some latitude left for us to build on and I'd love to get back in the suit again and do some things I've learned how to do now that I didn't know how to do then. I think we're better at making that kind of a film now. Some of the things we did in the early parts of the franchise were experimental and now they've become customary in a lot of the Avengers films and other comic book adaptations.
Snipes also has some thoughts about how to update the franchise. "Blade chasing the Twilight kids around? Hey man, there's always a possibility, and I'm open to it," he said. "There have been rumours around that we may explore the opportunity, so give me one more shot!" [MTV News via Comic Book Movie]
There's no doubt Chris Pratt wants you to see Guardians of the Galaxy this weekend, but he really, really can't wait for you to see the Jurassic World in Jurassic World.
I'm excited about people seeing the park. The park is up and running. John Hammond's dream has come true, and there's now a park with 20,000 visitors a day. And everything he dreamed of and more is there at the park, and you will see it as an audience member when you see this movie. And then you will see it get torn down. [Laughs]
Jurassic World opens June 12, 2015. [Total Film]
We got a small glimpse of the kaiju world in Pacific Rim, and Guillermo del Toro promises we'll see even more of that in Pacific Rim 2. "If you think are we invading their world, we're not, but we're showing more of that world," he said.
On top of that, we'll also be seeing more of our own world. While the first film was mainly shot in Toronto, the follow-up will expand outward.
No, it's all over the world this time. I want it to be different enough to the first one that you don't feel you're seeing the same movie. I'm doing a little more location-oriented stuff, there are night battles, but there are also daylight battles. The things we do in the action scenes is very different from the first one. We are expanding the mythology of the Anteverse. We are taking the characters into a completely different journey this time because Raleigh for me solved his problem the minute he was able to go full circle and save Mako by sacrificing himself, which is what he couldn't do with his brother. He's not on that journey anymore, he's on a new journey.
As for when and how all of this will unfold, del Toro offered some new details on the timeline.
We start designing in three weeks. We get the first draft of the screenplay in three weeks; Zak Penn and I are co-writing and then there's a long, long, long journey of drafts and design. It took nine months to design "Pacific Rim"; it will take nine months or more to design the second one. We start scouting for the movie in the summer next year, July, and then we start shooting in November. Then it's a long year of post after we wrap and we'll probably be showing the movie in January/February 2017 to test audiences.
Pacific Rim 2 lands April 7, 2017. [STYD, Hero Complex]