Jack Black's 'Goosebumps' Movie Trailer And Panel Promises Scares And Laughs [Comic Con 2014]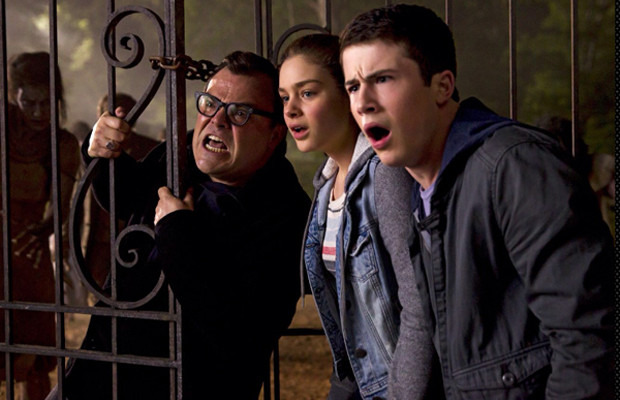 The Sony Pictures panel at San Diego Comic-Con 2014 could more appropriately have been titled "Goosebumps." After a super-short mention of the upcoming Chris Columbus film Pixels, author R.L. Stine popped on screen to tell fans about Goosebumps, which opens in Summer 2015. Director Rob Letterman (Monsters vs. Aliens) showed up for the panel, along with star Jack Black, a mere two days after they wrapped production. The pair debuted some new footage and news regarding the meta storyline of the film, in which the characters from all of Stine's Goosebumps books escape the original manuscripts.
Below, read more about the Goosebumps movie trailer and panel from San Diego Comic-Con.
Black began the panel by telling the story of when he first met R.L. Stine. "I'm gonna play you but I can't play you like you are," he told him. "I need him to be more sinister. Creepy and crawly and scary." So, basically, he wasn't going to look or sound like the real life author.
In the film, Letterman explained, the tone is tricky, as he has to balance scares and laughs, and delight kids and adults alike. Rather than describe it too much, he showed a trailer. We see a vision of beautiful small town America. A new family moves into a house; creepy neighbors, the Stine family, live next door. When the boy (Dylan Minnette) sees a Rear Window-esque event next door, he breaks into the house. There he discovers the truth. The ultra popular author keeps the monsters he created locked up in his original manuscripts. The house, shrouded in dark shadows, is appropriately creepy.
The trailer then cuts to Stine and the kids driving in the town and a massive preying mantis attacks them. (It will be CG, but was seen here in a pre-viz render as the film is so far from release.) "I  don't remember writing a giant preying mantis," Stine says. It spits on the car and THEN he remembers. Then we see them being chased by the Snowman of Pasadena. There's a huge funhouse, a wolfman character, knife-throwing gnomes and then the ventriloquist dummy Slappy, who is the ringleader of all of the monsters. (That book was named as a favorite by both Black and Letterman.)
A slew of additional action scenes were shown, making it seem like almost every single monster from the books is in the film. At the end of the trailer, Stine brags about selling 400 million books and one of the kids goes, "Is that domestic?" "No, international, but that's still an impressive number."
Even in the very early form, Goosebumps looks pretty fun. A big, smart monster movie for kids. The way they took all of the Goosebumps books and rolled them into one is pretty smart.
That, of course, lead to some of the audience questions.
Some of the monsters are full CG, some are hybrids, some are practical makeup.
Black has read a lot of the Goosebumps books but not all of them.
The Haunted Mask is in it, but they were wary of revealing too many spoilers.
Welcome to Camp Nightmare will be referenced.
They don't know exactly how many monsters from Stine's books are in the movie.
Because everyone loves Slappy from Night of the Living Dummy, he's the lead villain. They consider him Stine's alter ego.
Then at the end, Jack Black said he had been working on ventriloquism to work with Slappy and he did a few words. But then it was revealed Slappy was "alive" and not being told by Jack. They did a little, funny bit and then Slappy decided to "bring out his friends." Then about 20, fully costumes R.L Stine monsters: The Bog Monsters, the Grave Yard Ghost, just a ton of them. I took a crappy photo from my seat: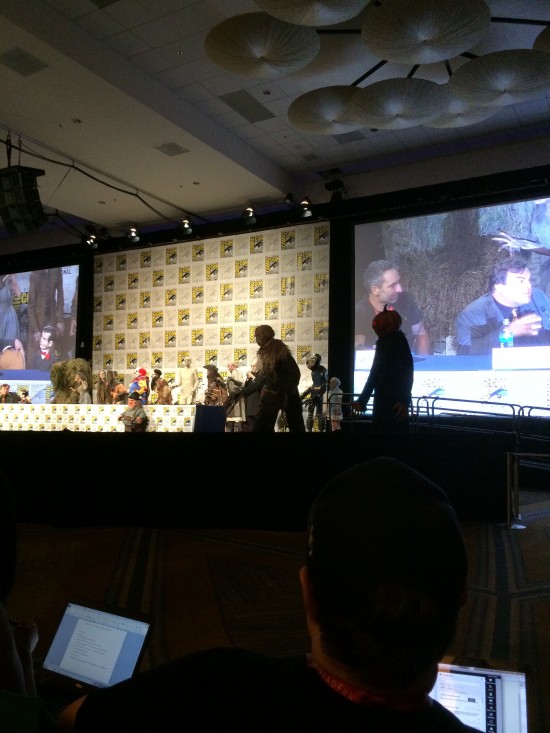 It was a fun ending to the panel and it definitely got me more interested in Goosebumps, which is set for release August 7, 2015. Here's the official synopsis:
In Goosebumps, upset about moving from a big city to a small town, teenager Zach Cooper (Dylan Minnette) finds a silver lining when he meets the beautiful girl, Hannah (Odeya Rush), living right next door. But every silver lining has a cloud, and Zach's comes when he learns that Hannah has a mysterious dad who is revealed to be R. L. Stine (Jack Black), the author of the bestselling Goosebumps series. It turns out that there is a reason why Stine is so strange... he is a prisoner of his own imagination – the monsters that his books made famous are real, and Stine protects his readers by keeping them locked up in their books. When Zach unintentionally unleashes the monsters from their manuscripts and they begin to terrorize the town, it's suddenly up to Stine, Zach, and Hannah to get all of them back in the books where they belong.