If I Stay Trailer #2: Chloe Grace Moretz Is Caught Between Life And Death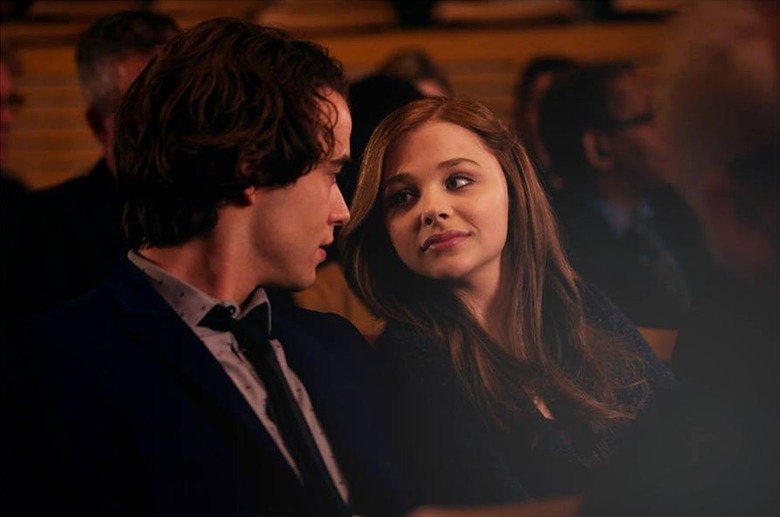 If you still have any tears left to spare for fictional adolescents after seeing The Fault in Our Stars, If I Stay would like to lay claim to them. The weepie stars Chloë Grace Moretz as Mia, a talented young musician who suffers a terrible car accident. She's left in a coma, while the rest of her family is killed.
Mia is now faced with an impossible decision: follow the rest of her family into death, or survive and struggle through a difficult life. Jamie Blackley plays her boyfriend Adam, who is definitely rooting for her to pick the latter. Watch the latest If I Stay trailer after the jump.
I have neither seen the movie nor read the book, but is there really any chance she's going to up and die when handsome, sensitive Adam is waiting for her? The trailer does a far better job of selling their romance than it does her bond with her family.
Whether If I Stay looks moving or just cheesy probably depends on your tolerance for melodrama, but at the very least, Moretz deserves credit for mixing things up. Mia might be an obvious role for most actresses of Moretz's age, status, and talent, but she's an unexpected choice for a star who got famous playing a foul-mouthed kid vigilante.
If I Stay lands August 22. R.J. Cutler directed from a script by Shauna Cross, which in turn was adapted from the book by Gayle Forman.
Mia Hall (Chloë Grace Moretz) thought the hardest decision she would ever face would be whether to pursue her musical dreams at Juilliard or follow a different path to be with the love of her life, Adam (Jamie Blackley). But what should have been a carefree family drive changes everything in an instant, and now her own life hangs in the balance. Caught between life and death for one revealing day, Mia has only one decision left, which will not only decide her future but her ultimate fate. "If I Stay" is based on the best-selling novel of the same name.