'Pixels' Video Game Characters Include Pac-Man And Donkey Kong [Updated]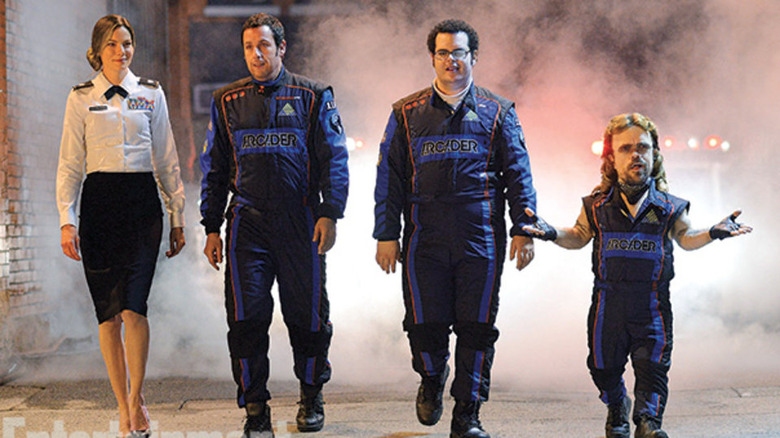 The film Pixels stars a few humans that each enjoy a great deal of popularity. Peter Dinklage (Game of Thrones), Josh Gad (The Book of Mormon, Frozen), Michelle Monaghan (True Detective), and Adam Sandler (all pictured above) must band together to defeat an unusual host of alien invaders. But those three actors might not truly be the stars of the film, because the invading aliens are all veterans of classic games. Now the Pixels video game characters have been revealed.
The feature is based on the short by Patrick Jean in which a human city is besieged by game characters, but we didn't know which ones would make the jump. Now we know that Pac-Man, Donkey Kong, and sprites from games such as Q*Bert, Space Invaders, and Galaga will all show up in the feature film version of Pixels. 
Here is the official film logo: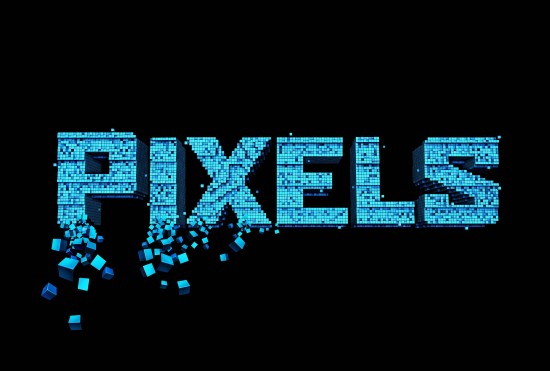 Frankly, it's easier to go to the abridged press release, but if you just want the list of companies which have realized that Pixels will make for a pretty good ad campaign, it's this:
Atari® Interactive: (Asteroids®, Breakout®, Centipede® and Missile Command®)
Konami Digital Entertainment Co., Ltd. (Frogger)
BANDAI NAMCO Games Inc. (PAC-MAN, Galaga, and Dig Dug)
Columbia Pictures Industries, Inc. (Q*bert)
Taito Corporation (Space Invaders)
Warner Bros. Interactive Entertainment (Joust, Defender, Robotron and Wizard of Wor)
How do those characters all go together? We've been told the film is going for a Ghostbusters sort of vibe, and so it's easy to imagine a variety of comic scenarios in which any one of those characters, or a few at a time, pose a problem for the humans.
Here's the official language from Sony.
Sony Pictures Entertainment announced today that the studio has brought together an extraordinary number of iconic video game companies, whose classic characters – including PAC-MAN, Donkey Kong, Centipede®, Galaga, Frogger, Q*bert, and Space Invaders – will be featured in the highly-anticipated action comedy Pixels, starring Adam Sandler, Kevin James, Michelle Monaghan, Peter Dinklage, Josh Gad, and Brian Cox, and directed by Chris Columbus.  The film will be released on May 15, 2015.
In Pixels, when intergalactic aliens misinterpret video-feeds of classic arcade games as a declaration of war against them, they attack the Earth, using the games as models for their various assaults.  President Will Cooper (James) has to call on his childhood best friend, '80s video game champion Sam Brenner (Sandler), now a home theater installer, to lead a team of old-school arcaders (Dinklage and Gad) to defeat the aliens and save the planet.  Monaghan plays the team's unique weapons specialist.  The action-comedy is directed by Chris Columbus from a story by Tim Herlihy and a screenplay by Tim Herlihy and Timothy Dowling, based on the original short film of the same name by Patrick Jean.