'I Origins' Is A Prequel To A Screenplay Sold To Fox Searchlight In 2011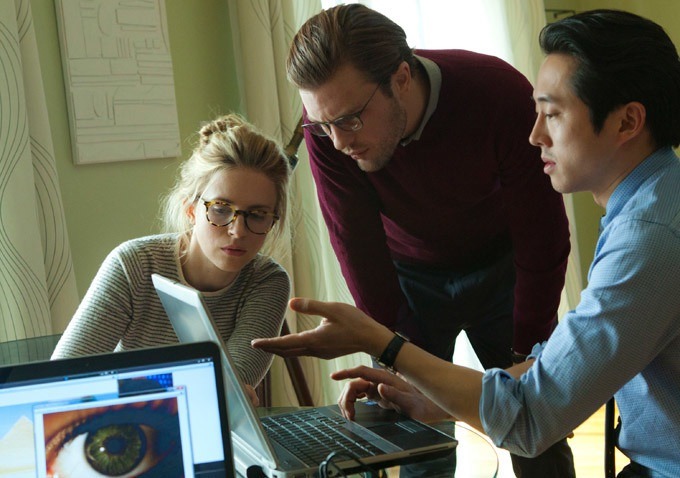 One of my favorite films of the 2014 Sundance Film Festival was I Origins, a science vs. faith character-based dramatic science fiction indie film about the possible existence of an afterlife. The film hits theaters this week and its not the type of movie that is an easy sell from watching a trailer (in fact, the trailer gives away far too much, but this is coming from someone who feels the first sentence of this post probably reveals too much already). After walking out of the movie, I had a lengthy conversation with a few journalist friends about the film. One thing I said was I'd love to see a film which shows a continuation of this story and the implications it may have (the film has a scene during the credits that points in this direction). As it turns out, I Origins was actually written as a prequel.
After director Mike Cahill sold his first film After Earth to Fox Searchlight at the 2011 Sundance Film Festival, he also sold a screenplay to a film he wrote titled I. Cahill told our own Germain Lussier the following:
[The end credits tease] is a whole 'nother movie that I wannamake. And it's called I. This is I Origins. This it has a, this has such an unusual title, right? And a lot of people are like are literally like this is grammatically confusing. It's like what the hell is going on there? And the thing about me is I'm so literal when it comes to titles. Another Earth is about another Earth. Boxers and the Ballerina is about boxer and a ballerina. I Origins is the origin story for I. And I is another movie that I wrote and sold to Fox Searchlight when Another Earth came out. It takes place 20 years in the future. It's basically the coda is the beginning of that film. We didn't make it. We were developing it and I couldn't crack it. There were some aspects of the story that was just, I just couldn't crack it yet. And so before going engaging in like making a movie that was gonna be really like not so good. Not to say that this one is. This one just, you know, modest little movie or whatever. It's our tiny little baby. But I was so eager to make something and I had this rich back story for I. So we made Origins first. As a very small like super low budget movie for a million bucks.
Searchlight owned the rights to any prequels or sequels to the I script he had sold to the company but Cahill wanted to make I Origins on his own (ie independently) and sell it at Sundance, like he did his first film. And Searchlight allowed it, I'm sure they had a first look agreement of some sort. The company ended up buying the film at the 2014 Sundance Film Festival after its premiere.
Its an interesting story, especially on the indie film level because when does this sort of thing happen? So now we have this prequel, a film titled I Origins (yes, the title now makes a lot more sense, even though I still don't like it), a prequel to a screenplay sold to Fox Searchlight. But what are the chances that we'll get to see Mike Cahill's futuristic sci-fi film I? I'd love for all of you to go out to the theater and make it possible, but I pessimistically feel like its too hard of a sell and too complex of a film to gain traction with mainstream audiences (or even critics).
Watch out for Germain Lussier's full interview with Mike Cahill dives deeper into what the I Origins sequel would be about. We'll be posting that interview at a later date so that people can see the movie before reading spoilers about what comes next. But yes, its set in 2035-2040 and the credits scene at the end of the film ties directly into where the story is headed.
I feel like its a similar situation as Zal Batmanglij's (the third leaf of the Brit Marling/Mike Cahill collaborative trio) Sound of My Voice. Again, a horrible title, an awesome but challenging film that leaves the door open for continuation of the ideas and story. That film was planned as the first of a trilogy, and as much as I'd love to see them, I doubt the film's $408,015 box office take will allow them to happen. Lets hope that doesn't happen to I Origins.
And if for some reason more films aren't considered viable, I'd love to see a comic book company help Cahill and Batmanglij continue their stories in the graphic medium. Who knows, it may take a few hundred thousand comics to be sold to greenlight a sequel. We live in screwed up times.