First Look: Adam Sandler And Peter Dinklage Suit Up For 'Pixels'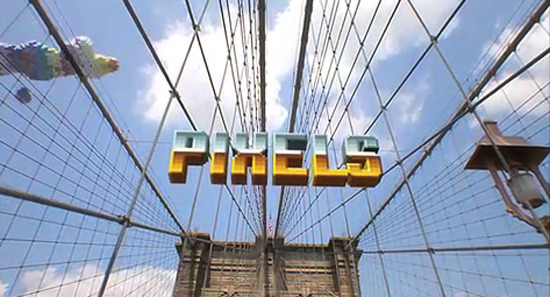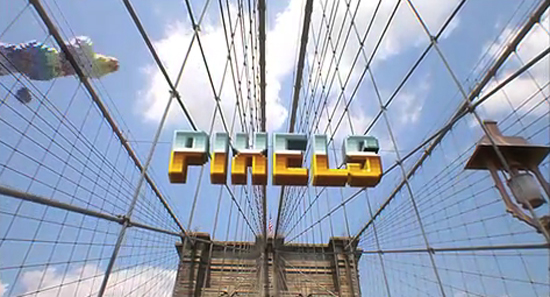 After the year he's had on Game of Thrones, it's tough to blame Peter Dinklage for wanting to take on some lighter fare in the off season. And it doesn't get much lighter than Pixels, a Happy Madison movie in which Kevin James plays the President.
Directed by Chris Columbus, Pixels sees classic video game characters descending upon New York City. Dinklage, Adam Sandler, and Josh Gad play the elite gamers recruited by the government to fight back, with Michelle Monaghan's military officer helping them out.
The first Pixels image has just been released, and it's worth a look if only for the sight of Dinklage's truly terrible mullet. See it after the jump.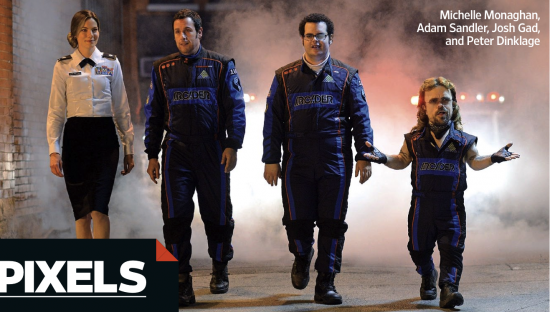 As Adam Sandler movies go, Pixels looks pretty promising. It has a solid cast, for one thing, and its Ghostbusters-esque premise sounds charming. It's actually based on a short film by Patrick Jean, which went viral in 2010 and was quickly snatched up for feature film development.
The script, written by Tim Herlihy and rewritten by Tim Dowling, has the aliens attacking after they misinterpret some old video games as a declaration of war. Desperate to defend his country, the President (James) turns to his childhood pal for help.
That friend turns out to be Sandler's character, a former arcade champ who's now making an unexciting living installing home theater systems. Dinklage is Sandler's former rival, sort of the Billy Mitchell to Sandler's Steve Wiebe. Gad will be an awkward conspiracy theory-obsessed genius.
And because it wouldn't be a proper Happy Madison movie without a disproportionately attractive love interest for Sandler, Monaghan rounds out the main cast as the military weapons expert that Sandler's character falls in love with. Ashley Benson, Jane Krakowski, and Brian Cox also star.
Pixels lands in theaters May 15, 2015.