'Laggies' Trailer: Keira Knightley Has A Quarterlife Crisis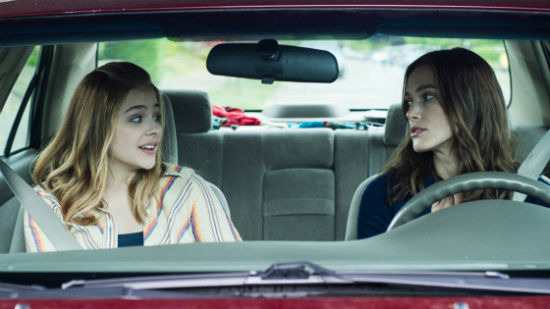 Dramas about overeducated, underemployed 20somethings in the throes of a quarterlife crisis are a dime a dozen on the indie film circuit. But Laggies seems worth a look anyway, if only because of the names attached.
Lynn Shelton (Your Sister's Sister) directed the coming-of-age tale, which follows an aimless 28-year-old (Keira Knightley). When her anxieties about impending adulthood come to a head, she runs off to move in with a 16-year-old girl (Chloe Grace Moretz) and her single dad (Sam Rockwell). The first Laggies trailer has just arrived, and you can check it out after the jump.
The trailer has real charm to it. Shelton has a talent for teasing out the nuances of unorthodox relationships, and Knightley, Moretz, and Rockwell all seem as engaging as ever. Unfortunately, the film drew only middling reviews at Sundance. Our own Germain wasn't quite blown away, describing Laggies as "a solid, funny film that never rises above its basic appeal."
Part of the issue seems to be that Laggies is Shelton's very first attempt to direct from a screenplay she didn't write herself. Detractors noted that Shelton's relaxed realism was at odds with the "increasingly contrived and overly familiar positions" laid out by Andrea Seigel's script, though fans praised the more "polished" feel of the overall film.
Laggies lands in theaters October 24.
Having spent her twenties comfortably inert, 28 year old Megan (Keira Knightley) reaches a crisis when she finds herself squarely in adulthood with no career prospects, no particular motivation to pursue any and no one to relate to, including her high school boyfriend (Mark Webber). When he proposes, Megan panics and given an opportunity to escape – at least temporarily – she hides out in the home of her new friend, 16-year-old Annika (Chloë Grace Moretz) and Annika's world-weary single dad (Sam Rockwell).