Star Wars Bits: Could Steven Moffat Direct An Episode? Plus Rebels, John Boyega And Andy Serkis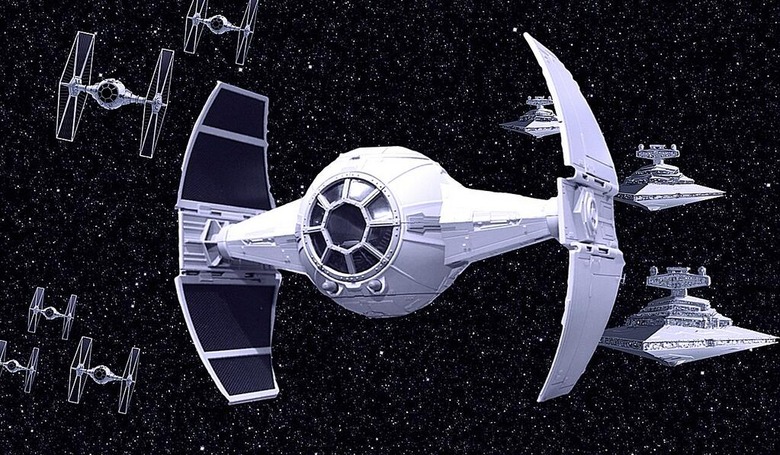 Rumors, confirmations, Rebels and more are in this edition of Star Wars Bits. After the jump, read about the following:
A new rumor connects Doctor Who and Sherlock showrunner Steven Moffat to Star Wars.
Andy Serkis hasn't started shooting his Star Wars Episode VII role yet.
Watch some viral "leaked Star Wars Episode VII" footage.
Original Star Wars sculptor Brian Muir is working on Episode VII.
Watch an hour long, pre-Star Wars interview with George Lucas.
Read some potential spoilers about the first two episodes of Star Wars Rebels.
John Boyega reflects on the job he's currently doing.
Has The Inquisitor's custom TIE Fighter been revealed?
Gizmodo report on the worst Star Wars exhibit ever.
Star Wars movies are spoken for up through 2018, which is probably when Steven Moffat will finally get around to making the next seasons of Sherlock and Doctor Who. (OK, I'm joking there; the new Who season starts next month and Sherlock next year.) Still, the latest rumor from JediNews is that he's being courted to make a Star Wars movie, maybe Star Wars Episode IX. He'd be a great, out of the box choice. Read more at the link.Andy Serkis, who is acting in Star Wars Episode VII and working as a consultant on performance capture for the film, has only done the latter on the project so far. In an interview with the Wall Street Journal, he confirmed he has yet to shoot any of his acting duties on the film, only working on other character's performances capture so far.
This "leaked Star Wars Episode VII footage" went viral this week. And while it's obviously, totally fake, it's pretty cool.
Just how deep is J.J. Abrams' desire to base Episode VII in the original trilogy? He's hired one of the first film's original sculptors, Brian Muir, to work on it. He helped sculpt the original Darth Vader match. JediNews saw the info.
MakingStarWars has some potential information about the first two episode of Star Wars Rebels. If it's true, and it probably is, lots of very cool little spoilers. It's in podcast from so listen there or SW Underworld has a recap.
Here's a long, 1971 interview with George Lucas. That's pre Star Wars.
What you've got to love about John Boyega is that he totally understands and respects what he's doing right now, starring in Star Wars Episode VII. Here's an example from his Instagram.
Rebels Report tweeted that this image below is of The Inquisitor, the villain of Star Wars Rebels, personal ship.
The Inquisitor's TIE Advanced Starfighter #StarWarsRebels pic.twitter.com/45XLyTJjju

— Rebels Report (@RebelsReport) July 6, 2014
Currently in Germany, you can see what Gizmodo calls the worst Star Wars exhibit ever. Head there to see photos but here's a video.