WTF: Watch A 72-Minute Trailer For The 720-Hour Long Movie 'Ambiancé'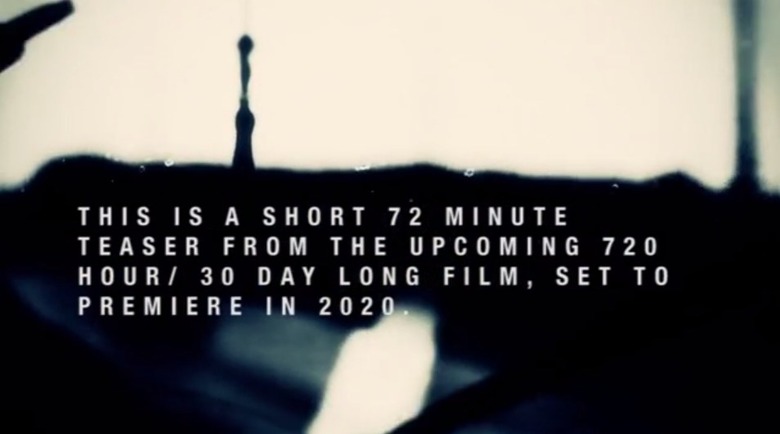 Three years ago Danish artist collective Superflex created Modern Times Forever, a 240-hour film which broke the record for the longest movie of all time. Well if a 10-day long movie wasn't enough, Swedish artist Anders Weberg is hoping to break that record with his 720-hour long movie, Ambiancé. That's right, a movie with a running time of 30 straight days — and you thought Transformers: Age of Extinction felt long? Here is hoe Weberg describes the film:
In the piece Ambiancé space and time is intertwined into a surreal dream-like journey beyond places and is an abstract nonlinear narrative summary of the artist's time spent with the moving image. A sort of memoir movie . (Film memoir ) . This in the visual expression that is constantly characterized the work throughout the artists career.
Weberg says this teaser trailer "is supposed to convey the mood from the full film." You can watch the first "short teaser trailer" embedded after the jump.
Watch the teaser trailer below:
I usually watch any trailer I write about in full, but this "short teaser" is 72-minutes long, so that just isn't going to happen. And if this teaser is too short for your appetite, Weberg has announced that he will be releasing the first "short trailer" with duration 7 hours 20 minutes in 2016, and a "Longer trailer with duration 72 hours" in 2018.
How long does it take to edit a 720-hour movie? Weberg has a ways to go, his current plan is to premiere the film on December 31st 2020. Mark that date down, because the film will only be shown once in screenings synchronized over all of the world's continents before it is destroyed. Talk about dramatic art.
Also, with a running time of 30 days and only one public screening, doesn't that mean that no one other than the filmmaker will have seen the entire film?