See 'The Knick' Character Posters; Steven Soderbergh Eager For Second Season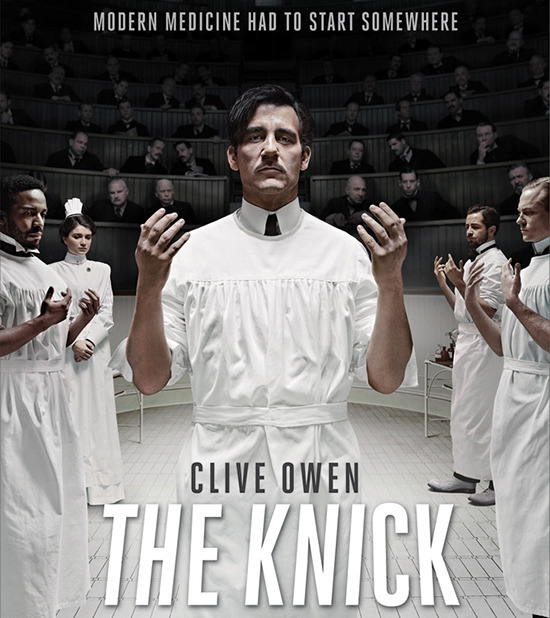 There's a lot of news today about television efforts from Steven Soderbergh. First, there was the cast info for his Amazon pilot Red Oaks, which Soderbergh is producing and David Gordon Green will direct. Now we've got a set of character posters for Soderbergh's Cinemax show The Knick, which premieres later this year. The show stars Clive Owen as Dr. John W. Thackery, a forward-thinking surgeon at the New York Knickerbocker Hospital at the turn of the century.
A set of posters for the show supports the set of trailers we've seen so far, and gives a spotlight to many members of the supporting cast, and also to what appears to be an impressive attention to detail on the part of the wardrobe and production design departments. Additionally, Soderbergh has been talking about the show, and says that the bracing experience of making the first season has him eager to to a second.
Soderbergh lays out the history  of the show to Esquire. The material just captured him, he says. "Look, I was out. I read this thing last May, right before we were going to Cannes with 'Behind the Candelabra.' I read it and was like, 'Shit.' I was the first person to get it. I went, 'Well, the second person who reads this is going to do this.' "
He went on to say a lot more about the process of moving to TV, and all the demands that doing a full season places upon a filmmaker.
You get to go narrow and deep. I had a great time on it. I was terrified going in. Because they basically said yes to a pilot script. We wanted a series commitment with the understanding... This is end of May, June, a year ago. We wanted a commitment and we had to start shooting in September. The good news was they said yes. The bad news was now we got to write nine hours in two and a half months and prep for a 10-hour period piece. We had to shoot nine pages a day and I was really scared. But it turned out to be a total blast.
I thought 570 pages for 73 days... How would you do that? It turned out to be actually... fun. It really was fun. But the only way you can do that is if you have autonomy on the ground to solve problems moment to moment, the way you want to solve them.
That autonomy came in part from the fact that he's Steven Soderbergh, but part of being Soderbergh is having the experience to make smart decisions. And so the fact that the show ended up on Cinemax seems to have been Soderbergh's idea, and relates directly to that autonomy he required.
I said to [HBO president of programming] Michael Lombardo, 'This may sound a little weird, but I'd rather be the big kid at a really small school. How do you feel about doing this on Cinemax instead of HBO?' For me personally, I'm going to get a lot more one-on-one. He goes, 'Actually, that'll be great.'
Here's the new set of posters, via The Playlist.
The Knick also stars André Holland, Eve Hewson, Juliet Rylance, Jeremy Bobb, Michael Angarano, Chris Sullivan, Cara Seymour, Eric Johnson, David Fierro, Maya Kazan, Leon Addison Brown and Matt Frewer. It premieres on Cinemax on Friday, August 8 at 10 PM.