'When Marnie Was There' Trailer: A Girl Befriends A Ghost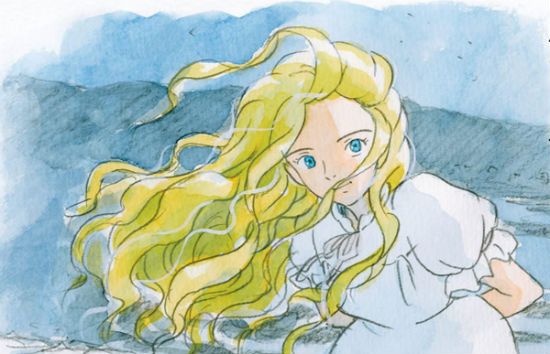 The next film from Studio Ghibli is When Marnie Was There (Omoide no Marnie), directed by Hiromasa Yonebayashi (The Secret World of Arrietty). The story follows an adopted girl who makes a ghostly friend — her first friend, really — during a stay at a seaside town. The film is set for release in Japan this summer, and now there's a When Marnie Was There trailer.
As often happens with Ghibli films, this trailer comes from a TV broadcast, so it is littered with some graphics and text. And as also often happens with Ghibli films, this first trailer is more of a music video for the song associated with the film. In this case, it is an English-language tune, 'Fine on the Outside,' sung by Priscilla Ahn. It's the first time an English-language song has been associated with a Ghibli film. Check out the trailer below.
Trailer via Twitch.
When Marnie Was There is based on the book of the same name by Joan G. Robinson. Here's the book summary:
Anna hasn't a friend in the world – until she meets Marnie among the sand dunes. But Marnie isn't all she seems...An atmospheric ghost story with truths to tell about friendship, families and loneliness. Anna lives with foster parents, a misfit with no friends, always on the outside of things. Then she is sent to Norfolk to stay with old Mr and Mrs Pegg, where she runs wild on the sand dunes and around the water. There is a house, the Marsh House, which she feels she recognises – and she soon meets a strange little girl called Marnie, who becomes Anna's first ever friend. Then one day, Marnie vanishes. A new family, the Lindsays, move into the Marsh House. Having learnt so much from Marnie about friendship, Anna makes firm friends with the Lindsays – and learns some strange truths about Marnie, who was not all she seemed...