'Constantine' Anti-Hero's Smoking Habit Cured By NBC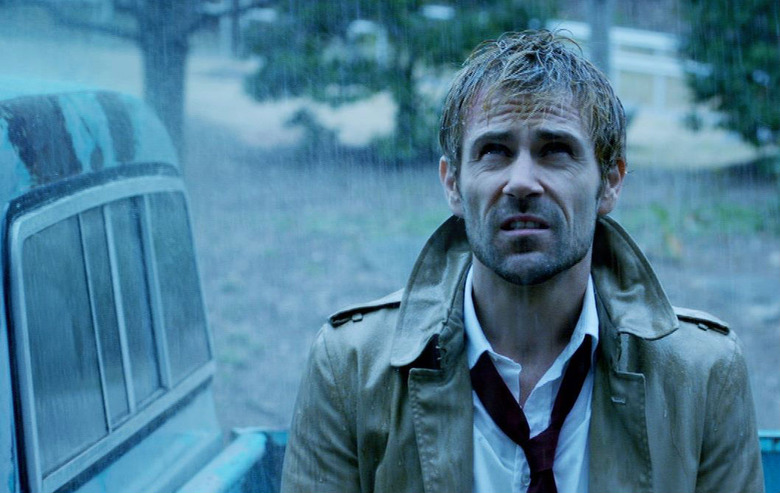 John Constantine is sad; all he wants is a smoke. The rain, however, is not preventing him from lighting up. Restraint comes from the standards & practices department at NBC, which is more powerful than any nicotine patch when it comes to killing off a nicotine habit.
The character, a DC Comics mainstay since his creation by Alan Moore in the mid-'80s, is coming to television via David Goyer and NBC. And despite the fact that Constantine is a serious smoker (such a dedicated smoker, in fact, that lung cancer became a major plot point in his overall story) the network has said "no smoking" to the producers of Constantine. Maybe he can vape?
After the break, pilot director Neil Marshall explains some of the no smoking reasoning. (Note: possible gross spoilers for Hannibal are below, in the form of thumbnail images.)
NBC will broadcast Constantine. The network also brings us Hannibal. So, first up, here are some things NBC will show. These images are OK for network TV thanks to Hannibal, but they might not be safe for work.
Here's something NBC won't show.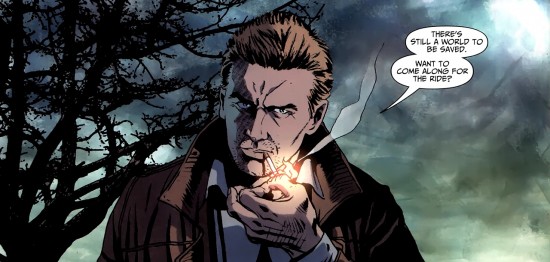 Smoking is not good, no question. It's probably more likely to kill you, too, than any of the stuff on Hannibal. But given that Constantine is about a damaged magic using-antihero who is more likely to hurt his friends than help them, is there really any thought that John Constantine, played by Matt Ryan, would inspire kids to smoke? (Maybe? Some people are pretty dumb.) But by this point we know that violence is OK in media when other real-world behaviors aren't.
Collider spoke to pilot director Neil Marshall (The Descent, Doomsday, several Game of Thrones episodes) who explained that NBC axed the idea of John Constantine smoking on television. 
No we're not [making him smoke].  It's the one thing, a compromise I guess.  On network it's the one thing — you can't smoke on network.  That's one of his character traits.  We're working around that.  We're trying to get aspects of it in there as much as possible.  We'll see.
Marshall says he doesn't know what happens after the pilot, and that he can't say whether Constantine's cancer will end up being a plot point in some manner despite the lack of smoking. He does say there is no mention of cancer in the pilot.
Smoking aside, violence and disturbing content won't be an issue. Which is to say that Hannibal may have evil company.
Hannibal is on NBC, and that's pretty dark and disturbing.  Whatever the regulations are, you can be as dark and disturbing as you want and we're going to go in that direction.  The intention is to be as dark and scary as possible with the show.  And that was our whole kind of plan going in, to make it scary.  So we're going to explore all kinds of things.  But the smoking is very frustrating.  Who knows where it will go; where the story will go; where the character will go?  There's still lots of options.
Constantine premieres Friday October 24, at 10pm.
Based on the wildly popular comic book series "Hellblazer" from DC Comics, seasoned demon hunter and master of the occult John Constantine specializes in giving hell... hell. Armed with a ferocious knowledge of the dark arts and his wickedly naughty wit, he fights the good fight – or at least he did. With his soul already damned to hell, he's decided to leave his do-gooder life behind. But when demons target Liv, the daughter of one of Constantine's oldest friends, he's reluctantly thrust back into the fray – and he'll do whatever it takes to save her. Before long, it's revealed that Liv's "second sight," an ability to see the worlds behind our world and predict supernatural occurrences, is a threat to a mysterious new evil that's rising in the shadows. And now it's not just Liv who needs protection; the angels are starting to get worried too. So, together, Constantine and Liv must use her power and his skills to travel the country, find the demons that threaten our world – and send them back where they belong. After that, who knows... maybe there's hope for him and his soul after all.