'The Guest' Trailer: Dan Stevens Gets Creepy For 'You're Next' Duo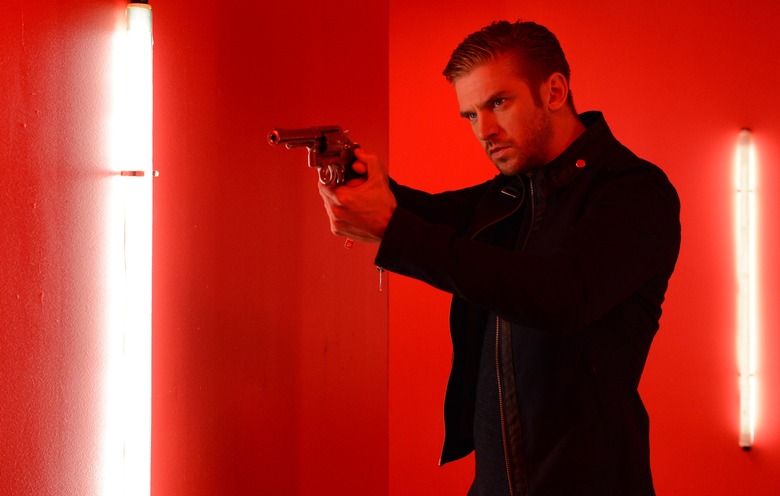 Dan Stevens made his name as a lovable sweetheart on Downton Abbey, but now he's taking a turn for the dark and sinister in The Guest. Written by Simon Barrett and directed by Adam Wingard, the thriller stars Stevens as a soldier who shows up unannounced at the family home of a fallen soldier.
He claims to have been with their son when he died, and the family welcomes him into their home. But it's not long before suspicious things start to happen. Watch the first The Guest trailer after the jump.
The Guest premiered at Sundance earlier this year to strong reviews, including one from our own Germain Lussier: "It's got the basic feel of a stalker film from the late '80s or early '90s, but filtered through the action of Quentin Tarantino, the music of John Carpenter, the ideas of James Cameron and almost too many others to mention. [...] The result is a fresh, fun film that crescendos from title to credits with suspense, laughs and violence."
Sounds pretty promising. The Guest arrives this fall. Here's the synopsis from Sundance:
Still struggling over the loss of their oldest son, Caleb, to the war in Afghanistan, the Peterson family finds some solace when an unexpected visitor knocks on its door. David, a steely eyed and charismatic soldier who was recently discharged, is welcomed into their home when he comes to fulfill a promise he made to his fallen comrade. Siblings Anna and Luke are at first reluctant to accept David's presence, but he soon wins them over by scoring kegs for Anna's friends and roughing up some bullies from Luke's school. Though he appears to be the perfect houseguest, a mysterious and sinister chain of events causes Anna to question whether David is actually whom he claims to be.