Ben Affleck And Matt Damon Promote 'Project Greenlight' Return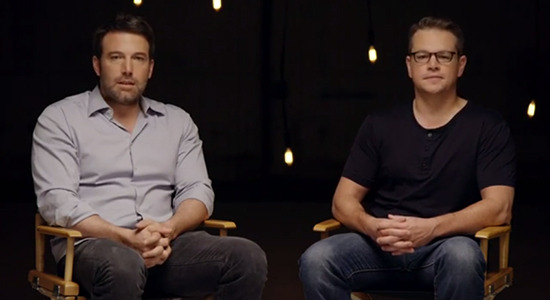 Ben Affleck and Matt Damon got their break with Good Will Hunting, and won their first major acclaim when their screenplay for that film took home the Best Original Screenplay Oscar in 1998. A couple years later, the two produced the HBO show Project Greenlight, in which aspiring writers and directors competed to create a feature film.
The contest and the show return this year, and Affleck and Damon appear in a short promo for the show, where they outline the new contest specs. Even if you don't have much interest in the show, the gentle banter between the two makes the promo an entertaining watch. Check it out after the break.
This time out, the contest lineup is a bit different than in previous seasons of the show. This version of Project Greenlight is interested only in directors, as a "Hollywood-vetted" script will be provided. That's a big change, as the original version of the show was a screenwriting competition. (Which made sense given that the show's most visible producers were Oscar-winning screenwriters.) The second and third seasons featured categories for writing and directing, but now it is directors only.
Project Greenlight is back, and this time, Ben Affleck and Matt Damon are searching for the next great director. Find out more at http://www.projectgreenlight.com.