Rumor: Sylvester Stallone Returns To 'Rambo V' Plan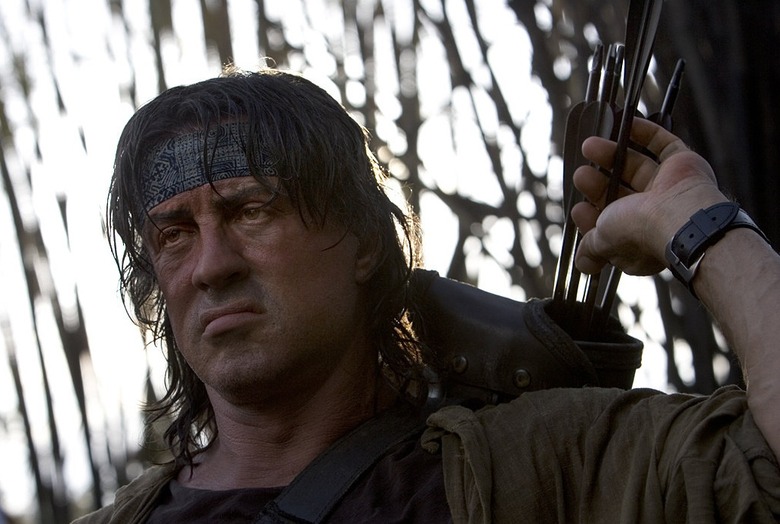 Concepts for Rambo V have flown around for years now. The most outlandish one involved hunting a beast rather than a man, but it's a project that has come up every once in a while in various incarnations, only to be killed off each time. There's even talk of a Rambo TV series, albeit one without Sylvester Stallone. Because the cycle has come round again, there's new talk of Rambo V, which is said to once again have Stallone as a writer and star. This time, if the story is correct, he would be facing off against a Mexican drug cartel. And this time, the info comes from a pretty credible source.
This time, the info comes from a film financier and distributor, rather than a random source. Splendid Medien AG, a "medium-sized, integrated media group," recently ran a press release featuring the following. (Translated from German.)
With "Rambo V" Sylvester Stallone returns to his signature role. This time he messes with the Mexican cartel. Stallone, who is also responsible for the screenplay, describes the new Rambo as his version of "No Country for Old Men." Producer is like the last "Rambo", Avi Lerner ("The Expendables 1-3").
While this news comes from a legit company, after years of hearing talk go back and forth about this sequel, we're loathe to put much stock in anything until Stallone or Millennium announces the film.
The last we heard of Rambo V was almost 18 months ago, when the film showed up at the European Film Market, in a sales package with The Expendables 3, from Avi Lerner's Millennium Entertainment. There was no reported plot at the time.
This drug cartel log line suggests that Rambo V would in fact use a plot that has been kicking around for a potential fifth film since about 2009, when the story was that Rambo would be sent to rescue a girl kidnapped near the US/Mexico border, and that the hero would be fighting "human traffickers and drug lords."
Back in 2012, Stallone talked about that script, saying "He's in Arizona on the border. It will involve him going into Mexico. I don't think Rambo likes Mexicans," and also noting that the film would kill off the John Rambo character. And the line in the Splendid Ag description, referencing No Country for Old Men, suggests that this won't end well for someone. But then, a Rambo film rarely ends well for anyone.