Frozen, The Little Mermaid And More Official Disney Posters On Sale Until 'Stroke Of Midnight'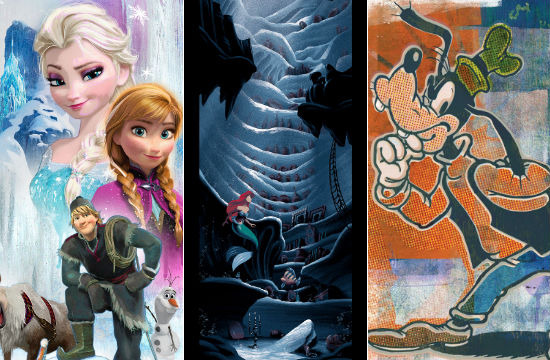 The stroke of midnight is pretty important in Disney stories. It'll soon be pretty important to Disney fans, too. Acme Archives will release twelve new posters beginning Friday June 20, and keep them on sale until the stroke of midnight the second following Monday. The posters run the gamut of Disney properties, from Frozen to Lilo and Stitch, The Muppets, Alice in Wonderland, Malificent and others. It's a pretty impressive spread of Disney work, highlighted by Mark Englert's awesome Little Mermaid piece. Check out all the posters, and get all the info, below.
All of these posters, which are numbered lithographs, go on sale at noon PST June 20 and will remain on sale till June 30 at 11:59 p.m....the stroke of midnight. Each is $40, except the Englert, which is $50. They'll print only as many as are sold in the ten days at this link.
Mouse over each for the artist name.
We've also got some high-res, and detail shots of the Englert piece. Check those out.
Can you spot Prince Eric? Look for his chin on the right side.