'Teenage Mutant Ninja Turtles' Shredder Revealed In New Image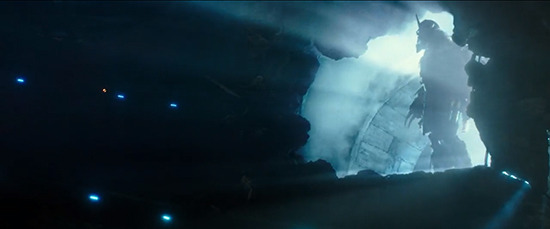 Leonardo, Michelangelo, Raphael, and Donatello have been all over the marketing campaign for Teenage Mutant Ninja Turtles. But Paramount's been a bit stingier with reveals of the film's villain Shredder.
That changes a bit today. A new image offers our best look yet at the classic charcter, played by William Fichtner. Hit the jump to get an eyeful of Teenage Mutant Ninja Turtles' Shredder.
Shredder in HD quality in the upcoming #TMNTMovie. That's some high tech armor. #TMNT #NinjaTurtles pic.twitter.com/YgozlX8Eff

— TMNT (@TMNT_Fansite) June 17, 2014
Shredder has traditionally been a Japanese guy, and while Fichtner isn't Japanese the culture's influence is clearly present. This looks a lot like a samurai suit of armor — albeit one that's been crossed with a Transformer and attacked by the knife section of Williams-Sonoma. It's all a bit goofy, but then so are a lot of things about this movie.
In addition to not being Asian, Fichtner's take on the character differs from other versions in that he's apparently responsible for creating the Turtles. As we've heard in the voiceovers from the trailer, he and April O'Neil's dad teamed up to try and make heroes. One thing led to another, and now he's the arch-nemesis of a four of amphibian martial artists.
Directed by Jonathan Liebesman and produced by Michael Bay, Teenage Mutant Ninja Turtles opens August 8. Pete Ploszek, Noel Fisher, Alan Ritchson, Jeremy Howard, and Danny Woodburn played the Turtles and their master Splinter in mo-cap; Johnny Knoxville and Tony Shalhoub provide the voices for Leonardo and Splinter, respectively. Megan Fox and Will Arnett also star.
The city needs heroes. Darkness has settled over New York City as Shredder and his evil Foot Clan have an iron grip on everything from the police to the politicians. The future is grim until four unlikely outcast brothers rise from the sewers and discover their destiny as Teenage Mutant Ninja Turtles. The Turtles must work with fearless reporter April and her wise-cracking cameraman Vern Fenwick to save the city and unravel Shredder's diabolical plan.