On Set Interview: Mark Wahlberg Talks 'Transformers 4'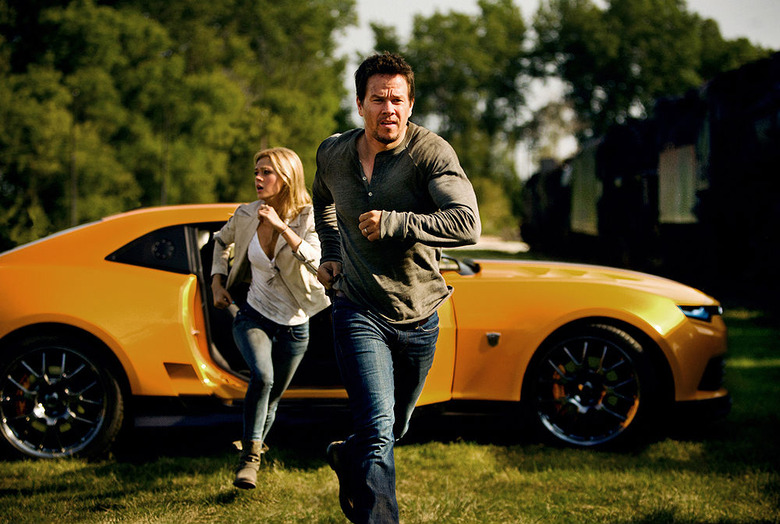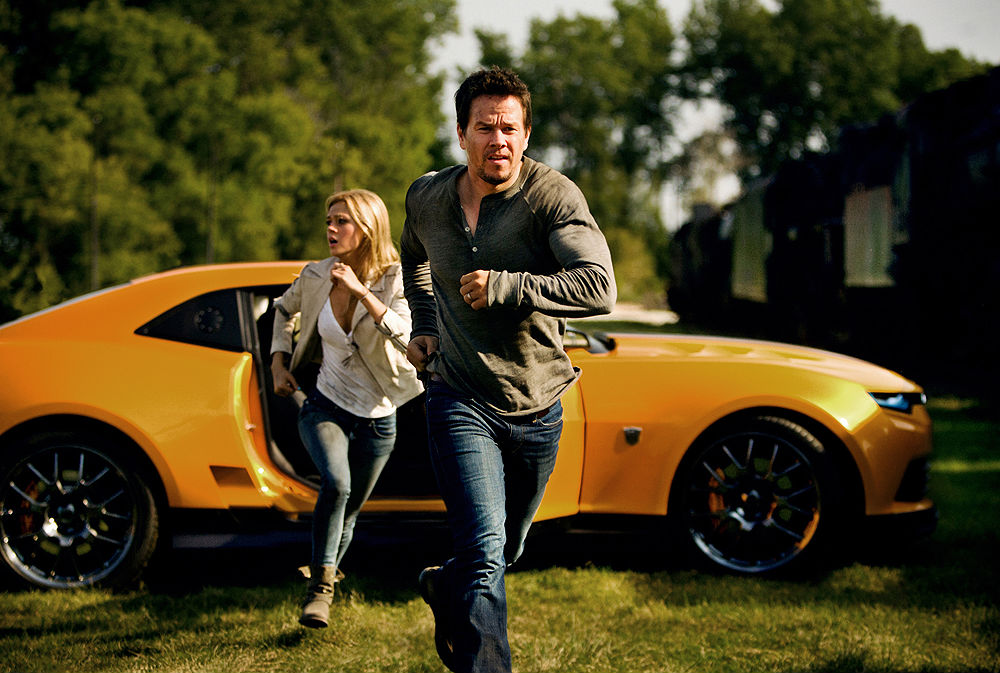 In August 2013, I flew to Detroit Michigan to visit the set of Michael Bay's Transformers 4: Age of Extinction. You can read about what I learned on the visit here. While on set, we also got a chance to talk to the cast and crew. We'll be posting those interviews throughout the week. We've posted our interviews with director Michael Bay and producer Lorenzo di Bonaventura. Today we bring you an interview with Transformers 4 star Mark Wahlberg.Read our Mark Wahlberg Transformers 4 interview after the jump.
You're a tinkerer and an inventor. How different or new is this for you as an actor?
It's very different. But I enjoy the idea of playing the dad. I hadn't really envisioned myself playing that, until recently. But I enjoyed it; I am a dad, and I've got four small children. But my oldest is a girl, and the whole thing about having to deal with a boyfriend and all of those things are things that I think about all of the time. And of course just having the chance to work with Michael on a movie like this where I know I can still have a lot of room and freedom to kind of develop the character and make it my own. Like we did on Pain & Gain – he trusted me to do my thing, and we had a great collaboration together. So it's been a great experience.
What kind of action to do you get to do? You have this cool-looking gun.
Well, I have this kind of ridiculous futuristic spaceship gun that I'm carrying around. But I just have to trust Michael's vision, you know, and just focus on the human element of it all. And thank God I did Ted; now my imagination allows me to see a little bit further. And, you know, I just have a lot more confidence as an actor, so having to pretend on such a big scale is not as nerve-wracking.
How was it to meet Optimus Prime?
It was very exciting – and even more exciting for my kids, because they got to get inside the old truck and the new one.
Have you been able to get into many of the cars?
Yeah, I've been in quite a few of them.
You did bigger movies like this a while ago. How eager were you to return to filmmaking on this scale?
You know, I loved the fact that I made a lot of movies recently where we shot no more than like 35, 40 days. But in this one, we're on, what, Day 43, and we're not even half done yet. But it's a big story, and obviously something that I'm excited about. I haven't done it for a while, and my kids are really excited about it. And it's just different; I've gotten to a place where I don't have to be so crazy about waiting around. The big stuff is easier to deal with at this point in my life. But I did purposely get away from it for a while.
What are you filming today? How does your character get to Hong Kong?
We get to Hong Kong in about three minutes. I can't remember the exact line that I have, but I say, "How fast can this thing get you halfway around the world?" and he says something like "2:54." We don't have that much time, but you can't get that much faster. But it's one of those things with Michael where I spoke to him because I just had a movie come out about what he was comfortable with me saying and not saying, [given that] I'm a young, single dad who was an ambitious inventor. So ask him those kinds of questions.
How different is this experience than something like Planet of the Apes?
It was such a long time ago. It's just I'm a completely different person; I'm a lot more comfortable in my own skin, like I was saying. Playing the part in Planet of the Apes, I could never connect to it, you know? It was one of those things where the performance was—
We're interrupted by a production assistant who takes Wahlberg to the set.
Oh, good! I got out of that question.
Do you feel like you're coming into an existing family, or creating a new one?
Yes and no, because obviously it's a lot of the same people that worked on the first three. But it just feels like a different movie, too, and it feels like that to everybody. But they've been very, very nice to me and welcomed me with open arms. And actually a lot of these people worked on Pain & Gain as well; Michael usually works with the same people.
How much do you feel like you're shouldering any sort of responsibility for this movie's success?
I try not to think about those things (laughs). But like with everything I do, I try to do the best job possible; obviously, being a producer and a businessman, I understand. But you can't think about those things. I know I'm in a great space creatively, and like I said, Michael and I have a great relationship both on and off the set. He really trusts me to kind of do my thing, and bring what I can to the story as a whole and to my character. And to the other characters around me, working with the younger kids, having the experience that I have, and being willing to work with people.
Do you like doing your own stunts?
No, I don't in particular. I just do what's asked of me. I'm too old to be a thrill-seeker now, and people who say, "Oh, I'm such a badass – I do my own stunts," they spend an hour in the makeup chair and another hour looking at themselves in the mirror.
Are you going to be on the soundtrack, since you sang "The Touch" in Boogie Nights?
You know, I was joking around and we were on this big, alien spaceship, and it looked more like a stage. And I was standing there with my wardrobe person and all of these women who work on the film were like below [where I stood], and I just started feeling like, oh shit, I've got to start rapping. So I was telling Mike, "Dude, I've got to do the title track for the soundtrack." And he was like, "you're not serious, are you?" and I was like, "No!" But if he asked, of course I would.
Maybe we could ask him to ask you.
You can ask him, but I don't know if he'll go for it. He likes it to be his own idea.
What are some of your contributions to your character?
Well, every time I do a movie, usually I'll be reading the script and I'll spend hours and hours and days and weeks and months going over the script, writing ideas down and finding a rhythm to the dialogue and the whole thing, and just coming up with ideas for scenes and moments and dialogue and all of that kind of stuff.
Does this feel like a standalone movie, or the launch of a new series?
Well, they've talked about doing more. When you make a deal on a movie like this, they're definitely going to want to negotiate those things in advance. And obviously whether or not that happens depends on the success of the movie, so the audience will dictate that.
Do you feel like this film can stand on its own?
Absolutely! Absolutely. I've been in the editing room with Michael, looking at a lot of the stuff, and nobody does what he does better bringing the rest of it to life. When the Autobots come alive, the robots are really there with you on screen. And all of the stuff that I've seen has been incredible so far. The idea was to make it better – there's no doubt about that, not just say, okay, we're going to milk this thing for everything it's worth. It's about trying to make it better. But again, I have a lot of responsibility with what I'm required to bring to the table, but I'm excited about that. I always get excited about the opportunity to do something great and challenging myself. Like when I had the opportunity to just work with Denzel Washington, I was like, this is great – I get to go at him. We're going mano e mano, and who better to go at it with than to give a showcase of what I can do. I don't usually get too nervous about things after being in prisons; it's like, this is not something to be nervous about. It's something to be excited about.