New 'The Equalizer' Trailer Shows Some Everyday Crime-Fighting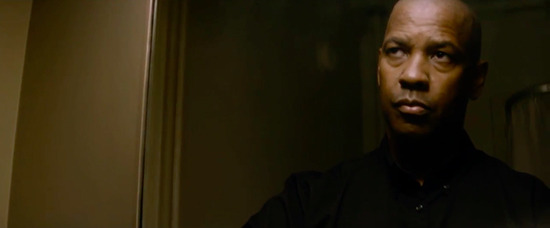 A few weeks ago we saw the first trailer for The Equalizer, directed by Antoine Fuqua and starring Denzel Washington. But that one turns out to have been a less than legit release. Now Sony has released a new Equalizer trailer. This isn't just the same thing with a different logo or two; it's the same trailer with a lot of additional footage that gives a new look at the film.
While the first cut we saw was all about Denzel kicking the ass of some Russian mobsters thanks to their mistreatment of a young prostitute played by Chloe Grace Moretz, this one opens up with his character at work in a Home Depot-like big box store. A robbery angers the Equalizer, and while we don't see any overt violence in response, the trailer gives a pretty good indication of how he deals with the situation. And then the mess with the mob gets started. Watch below.
The Equalizer also stars Melissa Leo, Martin Csokas, and Bill Pullman. It opens on September 26. This trailer comes via Sony Pictures.
In The Equalizer, Denzel Washington plays McCall, a former black ops commando who has faked his death to live a quiet life in Boston. When he comes out of his self-imposed retirement to rescue a young girl, Teri (Chloë Grace Moretz), he finds himself face to face with ultra-violent Russian gangsters. As he serves vengeance against those who brutalize the helpless, McCall's desire for justice is reawakened. If someone has a problem, the odds are stacked against them, and they have nowhere else to turn, McCall will help. He is The Equalizer.