First Look: Ethan Hawke And Emma Watson In 'Regression'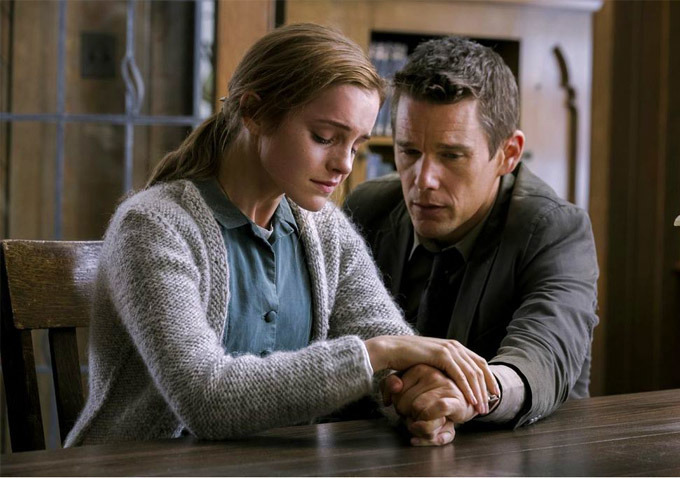 Alejandro Amenábar, despite having made only a few films, has quite the resume. One of his early features was remade by Cameron Crowe as Vanilla Sky, and he directed The Sea Inside (which won the Oscar for Best Foreign Film, and helped introduce Javier Bardem to global audiences) and The Others.
Now he returns this year with a new film called Regression. The crime thriller stars Ethan Hawke and Emma Watson in a story where Watson plays a young woman who accuses her father of a horrific crime, of which he has no memory. The first image of the pair (above) has just been released. It's not a cheery image, but the return of Amenábar is a good thing indeed.
The director also wrote this period piece which sees him working with a thriller construct shaded by deep psychological unease. He's also got a great cast, with Hawke and Watson joined by David Thewlis (Harry Potter), David Dencik (Tinker, Tailor, Soldier, Spy), Dale Dickey (Winter's Bone), Lothaire Bluteau (The Tudors) and Devon Bostick (Diary of a Wimpy Kid). 
Dimension will distribute, and also offers up this image [via The Playlist]. Regression is set for release on August 28, 2015.
Minnesota, 1990. Detective Bruce Kenner (Ethan Hawke) investigates the case of young Angela (Emma Watson), who accuses her father, John Gray (David Dencik), of an unspeakable crime. When John unexpectedly and without recollection admits guilt, renowned psychologist Dr. Raines (David Thewlis) is brought in to help him relive his memories and what they discover unmasks a horrifying nationwide mystery.