'Star Wars Battlefront' E3 Trailer: Recapturing The Magic Of The Original Trilogy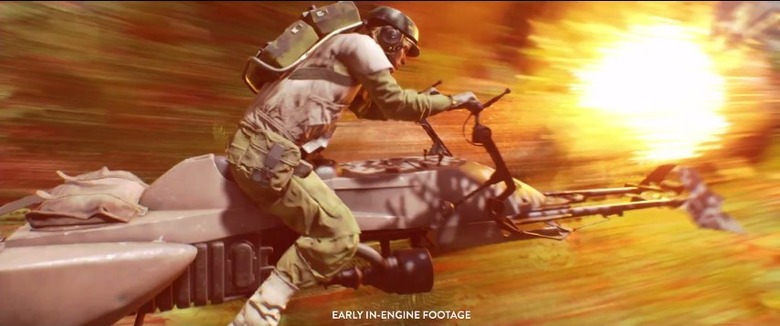 I'm not a huge video gamer, but the Star Wars Battlefront E3 trailer has me excited for the future of the Star Wars universe in the interactive space. The trailer is a behind the scenes look at how EA's Dice Studio is working hard to recapture the magic of the original Star Wars trilogy of films, going back to the Lucas archives to capture new details from the models and props. They also revisited some of the original filming locations to hopefully recapture the feeling of the spaces. The trailer is cleverly edited to play to our emotions and our nostalgia for the original films (yes, it worked) but  the Star Wars Battlefront E3 Trailer doesn't show a whole lot in terms of real gameplay, a couple little snippets of early in-engine footage. Watch the trailer now embedded after the jump.
And here is the announcement teaser trailer from last year's E3:
Here is the official game info grom EA:
Star Wars™ Battlefront™ is the ultimate Star Wars battle experience, brought to life by the creators of Battlefield. Fight in epic Star Wars battles on iconic planets and rise through the ranks playing as the heroic Rebellion or the evil galactic Empire.
In 2004, the original Star Wars Battlefront came onto the scene and took gamers – and Star Wars fans – by surprise. It was an ambitious action shooter that gave players the opportunity to step into the shoes of their favorite Star Wars characters, pilot quintessential Star Wars vehicles, and relive classic Star Wars battles.
Fast forward nearly 10 years and gamers still have many of those same Star Wars gaming fantasies – but now they wish to experience those larger-than-life battles in magnificent high definition, with all of the amazing special effects, vehicle physics and gameplay intensity that the next-generation has to offer. Star Wars Battlefront, developed by DICE on Frostbite 3, will surprise and delight fans yet again with a new experience inside this beloved universe made with our signature DICE craftsmanship and commitment to excellence.
No release date has been announced for Star Wars Battlefront. I'm guessing it will be available in time for Christmas 2015, which is also around the same time when Star Wars Episode VII is set to hit theaters.