Cool Stuff: Joshua Budich's 6 X 6 Art Including Fictional Food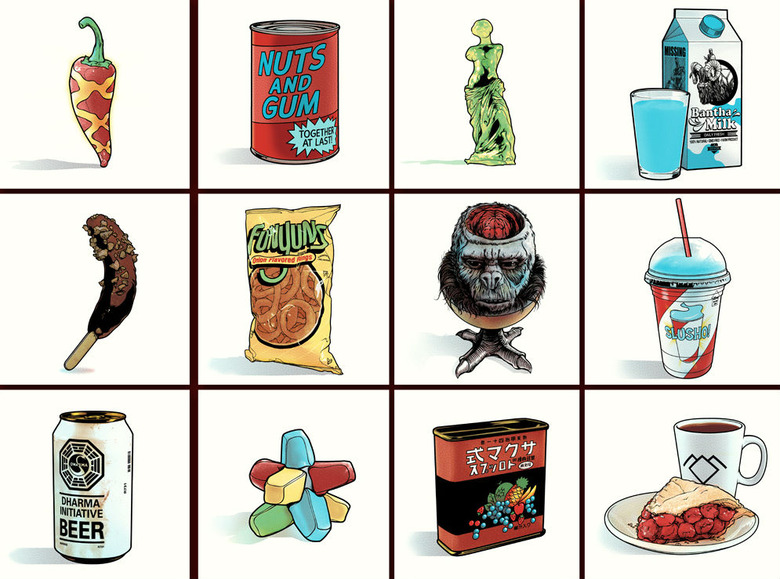 When you collect as much art as I do, you appreciate the little things. Literally. The smaller the piece, the better, so I can fit it on my wall. For others though, a small piece might be just the thing because it can show off your pop culture fandom without being too gaudy.
If that sounds good to you, artist Joshua Budich is happy to help. He's currently selling a plethora of small 6 x 6 inch prints based on all kinds of pop culture references. There are multiple pieces in a new "Fictional Food" series which shows popular food from even more popular films. Plus, he's created some small works of small, but popular, characters from the world of TV and film. And all of them are only $10 each. Below, see all of the available options and find out how to purchase them.
The below images are all now on sale at 
. There are around 25 of the Fictional food pieces, but 50 each of Ackbar,
Marla, Santanico and Ron plus 100 each of Joan, Arya, Uhura and Diana. They'll all go quick.
These aren't in sets, of course. Each image you see above is sold individually and is individually signed and numbered. These are all 6 x 6 inch screenprints, with varying amount of colors, and are only $10 each. Plus, if you over 6 or more, enter code "6x6Sale" to save 15% off your order.
I personally own five of these, and they look awesome. I can't recommend them enough.