How One /Film Reader's iPhone App Ended Up In Jon Favreau's Newest Movie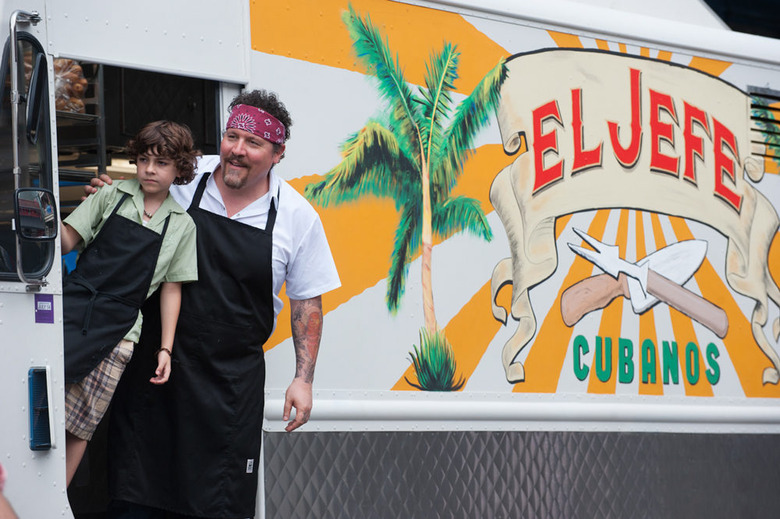 Jon Favreau's Chef has been rolling out to theaters across the country these past few weeks and the reviews have been good. Many think that it's a sweet film that shows Favreau returning to his indie roots.
If you've seen the movie, then you know that an app called 1SecondEveryday makes a prominent appearance within. That app was created by Cesar Kuriyama, a /Filmcast listener and /Film reader that I've had the pleasure of meeting several times over the past few years. I was first dazzled by Kuriyama's work when I saw his incredible music video made up of 45,000 photographs. But after Kuriyama created the app, I was so inspired by his work that I decided to record one second of every day of my life for a year. We also spoke recently about how to build a Kickstarter.
I spoke with Kuriyama via email about what inspired him to build the app, and how it wound up in Favreau's Chef. Find our conversation after the jump.
Some people have fun just making cool video projects, like you did with your 1 Second video. What motivated you to turn that experience into an app?
I've been recording one second every day personally for over 3 years now. What started out as a 1 year project meant to help my memory, turned into a life long project. A few weeks after I started I realized that finding something meaningful to record every day had an enormously positive impact on my life. It encouraged me to make every single day notable. I'm essentially recording the movie of my life one brief snippet at a time, and I want to make it the best movie possible
After my first video "1 Second Everyday – Age 30" garnered millions of views across youTube, Vimeo, & a TED talk... I felt that I could take my experience with the project and create an app that would make the process of doing this project extraordinarily easy for anyone with a smart phone. My hopes were that it would help others the same way it helped me.
My background is in video and visual FX, so making the video wasn't difficult, but a little time consuming. I wanted to design an App that would remove most of the work & make it fun for any expertise level. Some users are as young as 13, while others define themselves as "grandparents". The App has been out for a little over a year now, so I get a lot of heartwarming messages from users who've been touched by the results of their own personal 1SE videos.
When did you first learn that they were considering your app to use in the movie Chef? Did they describe to you how it would be used? 
My heart literally stopped when I read an e-mail that said "Our Writer/Producer/Director, Jon Favreau, loves your app 1 Second Everyday and..." would like to discuss possibly using it in his upcoming film Chef. I vividly remember jumping around with excitement... no one was home! Being a lifelong gigantic movie nerd, I've been an enormous fan of Jon's work since Swingers. Although he was in Rudy (which I've probably watched 100 times growing up), so maybe I've been a fan even longer!
I was addicted to his IFC show Dinner for Five, which in many ways is the original "podcast". Also, not only did I grow up a big comic book nerd, but I ended up interning at Marvel during one of the sweetest summers of my life! When the news hit that Jon would direct the first Marvel Studios feature film, I thought "perfect!".
Initially I had a phone call with one of the producers of the film. The call kept cutting in and out but I was too nervous to say that it was. She was explaining the movie and how they wanted to use my 1SE App. Luckily I was able to hear the part about 1SE pretty well. I gave her my blessing to give Jon permission to write it in. A couple of weeks later they sent me excerpts from the script for my approval. I have no words to describe reading it for the first time. I was overjoyed to say the least.
Do you know how Jon Favreau first learned about the app?
I have a lot of friends who think Twitter is completely useless. I argue it's merits, but they're often stubborn.
Being the massive Marvel fanboy that I am, I saw Iron Man 3 first chance I could. Jon directed Iron Man 1 & 2, but Shane Black directed Iron Man 3. Suddenly there's Jon on screen reprising his role of Happy Hogan. For some reason I couldn't help but think about what a class act he was. Even though he wasn't back in the directors chair, he had the integrity to come back and play his character in the trilogy. I admired him more than ever.
I didn't think he was getting the credit he deserved, so that evening I felt compelled to thank him on twitter for coming back as Happy Hogan. I don't typically tweet at celebrities. I basically assumed that they never read anything tweeted at them. But still, I found myself rewriting what I would tweet over and over again. Eventually I just felt embarrassed by what I wrote and decided not to send it. I fell asleep watching TV on the couch. Sometime in the middle of the night I woke up and started heading for bed. When I looked at my phone to check the time, I noticed the unsent tweet. I was half asleep and thought "what the hey"... it's not like he's even going to read this... there's nothing to lose... tweet. And went to sleep.
Cut to me several months later on the set of the movie. And I find out that Jon read my tweet... clicked on my profile... and discovered my TED talk on 1 Second Everyday... CRAZY! TWITTER. IS. AMAZING.
When did you find out if your app made the final cut?
I was fortunate enough to be invited to the premiere of the film at SXSW in March. I entered new levels of nervous as I watch the finished film. Definitely one of the best moments of my life. The crowd exploded with love for the film. I just sat there after the credits rolled and couldn't believe what had just happened.
How has the movie affected downloads of your app?
The movie opened 2 weeks ago in NY/LA, last week in 10 more cities, and this is the first weekend the film is opening across the country at almost 500 screens. So we'll see what happens.
Anything I'm forgetting that you think is worth sharing with our audience?
Only thing I can think off... check out the 1 Second Everyday App! Create the movie of your life by simply recording 1 snippet of video each day. I've been doing this personally for over 3 years and can relive every single day of that span in just 18 minutes. Check out my TED talk of my first year.