'This Is Where I Leave You' Trailer: Star-Studded Family Dramedy By Shawn Levy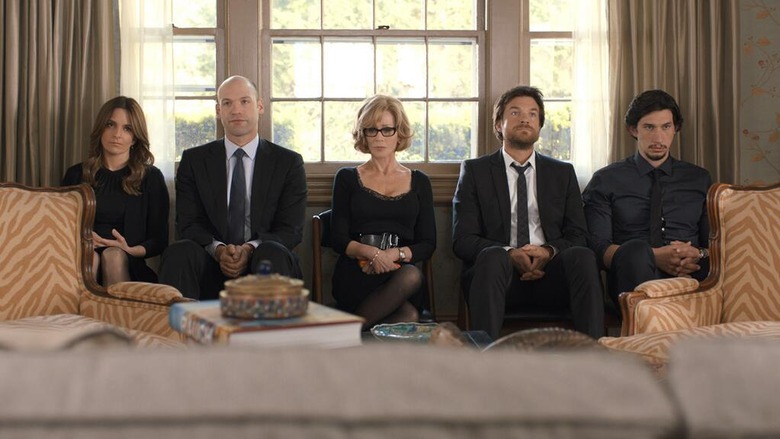 If nothing else, This is Where I Leaves You earns a peek for its cast alone. Jason Bateman, Tina Fey, Adam Driver, Rose Byrne, Corey Stoll, Kathryn Hahn, Connie Britton, Timothy Olyphant, Dax Shepard and Jane Fonda are just a few of the names in this adaptation of a novel by Jonathan Tropper. In the story, a dysfunctional family is forced to reunite for a whole week when their father dies. Old feuds become newly inflamed, passions are ignited, and all kinds of other madness ensues.
But This I Where I Leave You isn't a straight up, sad drama. There are laughs too, as evidenced not only by director Shawn Levy being at the helm, but the brand new trailer. Check out the first This Is Where I Leave You Trailer below.
Thanks to Warner Bros. for the link.
This Is Where I Leave You trailer
Levy is very hit or miss for me. I think some of his films are incredibly enjoyable, and other times it feels like he's not even directing. It's hard to tell from the trailer, but Levy seems to be trying something out of the box here, a tonally complex family drama. He did that a little with Cheaper by the Dozen but of late, he's been Mr. High Concept. Hopefully, with this cast, he gets to really direct and let the actors truly inhabit their characters.
This is Where I Leave You opens September 12. What did you think of the trailer?
Here's the official synopsis:
When their father passes away, four grown siblings, bruised and banged up by their respective adult lives, are forced to return to their childhood home and live under the same roof together for a week, along with their over-sharing mother and an assortment of spouses, exes and might-have-beens. Confronting their history and the frayed states of their relationships among the people who know and love them best, they ultimately reconnect in hysterical and emotionally affecting ways amid the chaos, humor, heartache and redemption that only families can provide— driving us insane even as they remind us of our truest, and often best, selves.