'Spring Breakers' Sequel Happening Without Harmony Korine's Blessing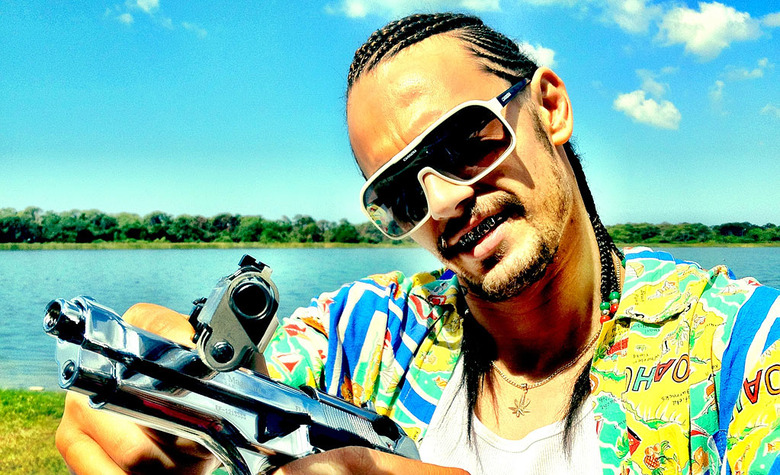 Just in case you wondered: that recently-announced sequel to Spring Breakers is being made without the participation or even the consent of Harmony Korine. The director of Gummo and Trash Humpers masterminded Spring Breakers as a savage, strange fever dream of excess and influence, but this sequel will probably be... something else. Something more tame, regardless of how much flesh and blood hits the screen.
James Franco provides the details here via his Instagram feed. One recent post features Franco clowning nearly in-character as Alien, his Spring Breakers character and homage to (or rip-off of) the rapper Riff Raff. The caption reads "ALIEN IN REHAB! And BTW F*** that SBers 2 BS, they're doing it without HARMONY's CONSENT. Sounds LAME AS A MUTHA!" Given that the original film is really Korine's baby, yeah, it is pretty lame.
All we know about the proposed Spring Breakers: The Second Coming is that it will feature a new crop of "spring breakers" who run afoul of "an extreme militant Christian sect that attempts to convert them."
Here's what would make that plot potentially great, Korine or no Korine: if Selena Gomez reprises her role as Faith. You might remember that the first film saw Faith bailing on the party-happy group of girls before things got super-crazy. She headed back home rather than getting caught up in the worst of the film's activities — whether those activities were imagined or real doesn't really matter. If this sequel goes all out for ridiculousness, and has Faith leading the Christian sect, then I'm down.