'Trust Me' Trailer: Here's What Clark Gregg Does When He's Not Being Phil Coulson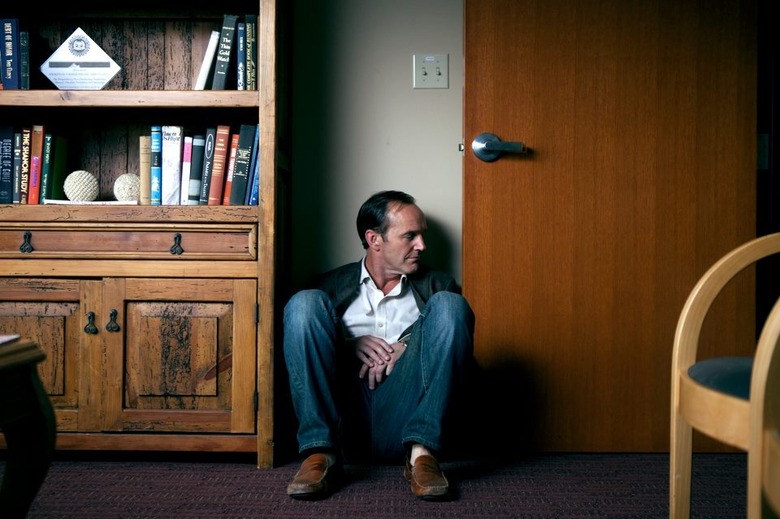 These days, we mostly know Clark Gregg as the unflappable Agent Coulson from The Avengers and Agents of S.H.I.E.L.D. But during his downtime from battling superpowered baddies, he's also been building up an interesting career as a filmmaker. He made his directing debut in 2008 with Choke, and today we have a trailer for his sophomore effort Trust Me.
The dark comedy stars Gregg as a former child actor who's now an agent for child actors. He thinks he's found the next big thing in 13-year-old Lydia (Saxon Sharbino) — and must keep his professional rival (Sam Rockwell) and her overprotective dad (Paul Sparks) don't get in their way. Hit the jump to watch the first full Trust Me trailer.
Word on Trust Me, which premiered at Tribeca last year, is that it goes off the rails toward the end. But otherwise this looks pretty promising. Plus, there's that cast: Allison Janney, William H. Macy, Felicity Huffman, Amanda Peet, and Molly Shannon star alongside Gregg and Rockwell.
Trust Me hits VOD, iTunes, etc. on May 6, before getting a theatrical rollout on June 6.
Clark Gregg leads an all-star cast in this sharp comedy as Howard Holloway, a down-on-his luck agent for child actors and truly one the last good guys left in Hollywood. After discovering a 13-year-old acting prodigy (newcomer Saxon Sharbino), he is poised to close the deal of a lifetime which would catapult his tween client and, at long last, himself, into the big time. With the support of his gorgeous new neighbor (Amanda Peet), he must wrangle the actress' volatile, overprotective father (Paul Sparks), dodge a scheming producer (Felicity Huffman), and outwit his uber-slick nemesis (Sam Rockwell). As he arrives on the brink of the Hollywood dream that's eluded him for a lifetime, he begins to sense that his innocent young starlet may not be quite what she seems. Also featuring Allison Janney, William H. Macy, and Molly Shannon.