Michael Bay-Produced TV Series 'The Last Ship' Trailer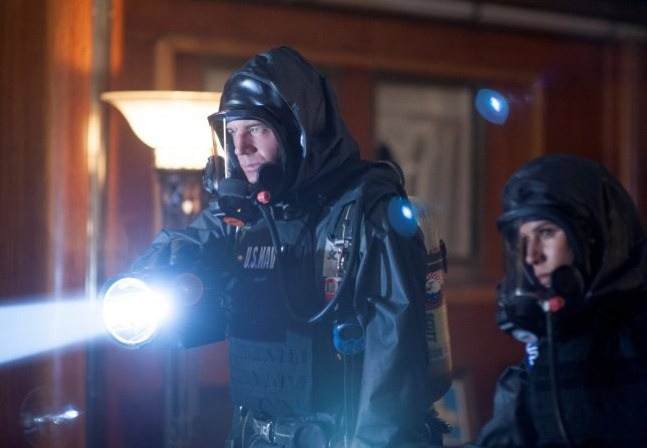 TNT has released a trailer for The Last Ship, a Michael Bay produced action drama starring Eric Dane (Grey's Anatomy), Rhona Mitra (Strike Back) and Adam Baldwin (Firefly, Chuck). The television series, which has a 10-episode order, picks up in the wake of an apocalyptic event that wipes out most of the world, leaving a group of survivors on a single Naval ship that was out at sea when the pandemic hit. The new trailer is being shown in movie theaters starting today, but you can watch The Last Ship trailer now embedded after the jump.
The Last Ship Trailer
Despite the two and a half minute running time, The Last Ship trailer is a bit more of a teaser than a full out trailer. I'm still very unclear what this show is going to be. One thing is for sure, with the abundance of post-apocalyptic television shows, this story feels like a completely different take and setting. I'm just not sure I'm interested in seeing a naval drama.
Oficial plot synopsis:
This summer, TNT is going to take viewers on an action-packed ride with the exciting new drama series The Last Ship, starring Eric Dane (Grey's Anatomy) and executive-produced by blockbuster filmmaker Michael Bay (Transformers). The Last Ship opens with a global catastrophe that nearly decimates the world's population. Because of its positioning, the Navy destroyer U.S.S. Nathan James avoids falling victim to the devastating tragedy. But now, Captain Tom Chandler (Dane) and his crew must confront the reality of their new existence in a world where they may be among the few remaining survivors. Rhona Mitra (Strike Back) plays Rachel Scott, a strong-willed, intelligent and fearless paleomicrobiologist assigned to the ship. Adam Baldwin (Firefly, Chuck) is XO Mike Slattery, a former homicide detective and Chandler's second-in-command. Also starring in The Last Ship are Travis Van Winkle (Heart of Dixie), Charles Parnell (Pariah), Christina Elmore (Fruitvale Station),Sam Spruell (Snow White and The Huntsman) and Marissa Neitling (Leverage). Based on William Brinkley's popular novel, The Last Ship comes to TNT from Bay's Platinum Dunes and its partners, Brad Fuller and Andrew Form, whose credits include the upcoming Teenage Mutant Ninja Turtles. Bay, Fuller and Form serve as executive producers, along with showrunner Hank Steinberg (Without a Trace, The Nine), Steven Kane (The Closer) and director Jack Bender (Lost). Steinberg and Kane wrote the series pilot, which was directed by Jonathan Mostow (U-571).
The Last Ship will premiere on TNT on Sunday, June 22nd at 9pm ET/PT.