Syfy Developing Frank Miller's 'Ronin' TV Series Along With 'Letter 44' And 'Clone'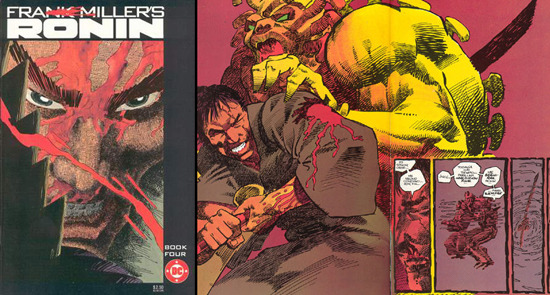 The SyFy channel is making a big new push to air adaptations of comic books. One, based on the Oni Press title Letter 44, has been in the works for a bit. But there are two additions: a show based on the series Clone, originally from Image Comics. And then the big one: a series adaptation of Frank Miller's early sci-fi story Ronin, in which a 13th Century ronin gets a new chance to avenge his master's death. The ronin is transported into the 21st century, where (and when) his master's murderer has been incarnated as a demon. Get a few details on the potential Ronin TV series below.
THR reports the development of Ronin, saying that the idea is to make a mini-series. There is no writer yet, but the trade says SyFy's approach to the story is as follows:
[It] takes place eight centuries after a Japanese Ronin samurai failed to protect his master from a demon. He awakens in a futuristic, nihilistic New York in the body of Billy, a medical experiment. Now Billy/Ronin is chasing the demon, which has reawakened. Both parties want control of a sword with magical properties and will stop at nothing to get it back.
That's pretty much Miller's original story.
And the idea of a Ronin adaptation isn't new; New Line optioned the story years ago, and Warner Bros. renewed the option in 2007. In 2009 The Losers director Sylvain White was talking about a desire to film the tale. That never happened, obviously, and Darren Aronofsky once hoped to film it as well. THR says the idea of making a theatrical film isn't dead, with Joby Harold and Chad St. John most recently signed to script for producer Gianni Nunnari.
And then there's Letter 44, based on the comic from Charles Soule. Jonathan Mostow (Terminator 3, U-571) is scripting and will direct and exec produce the pilot. That story is about "Stephen Blades, the new president of the U.S. who learns, via a letter from his predecessor, that seven years earlier, NASA discovered an alien construction project in the asteroid belt. A crew of heroic astronauts was sent to investigate and they're nearing the conclusion of their epic journey."
TheWrap, meanwhile, says  also reports that the Image Comics series Clone is being developed. Robert Kirkman (The Walking Dead) is exec producing the adaptation, and David Schulner (Dracula, Ironside) is writing and exec producing. The story follows "a retired soldier, Luke Taylor, who discovers a man who burglarized him home is a clone of himself. He is drawn into a vast government conspiracy when his wife is kidnapped, and must use his combat skills and military contacts to uncover a secret biotech program."