New 'Teenage Mutant Ninja Turtles' Footage Reveals Splinter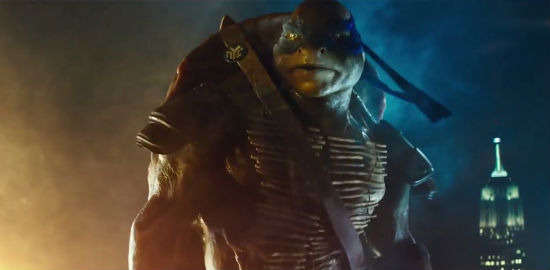 There's a tiny bit of new Turtle fight action in this TV spot, but the part of this new Teenage Mutant Ninja Turtles footage that you'll probably want to see is the first real look at the rat Splinter. You don't get a great look at the guy, but there's enough of a view to know that it couldn't possibly be anyone else. The Turtles are still ugly, though, as as in the trailer. "New ugly," I mean; the guys were never pretty, but at least they had an established look. Enough about that, however. Check out the spot below for the shot of Splinter.
Teenage Mutant Ninja Turtles opens August 8. IGN has this TV spot.
The city needs heroes. Darkness has settled over New York City as Shredder and his evil Foot Clan have an iron grip on everything from the police to the politicians. The future is grim until four unlikely outcast brothers rise from the sewers and discover their destiny as Teenage Mutant Ninja Turtles. The Turtles must work with fearless reporter April O'Neil (Megan Fox) and her wise-cracking cameraman Vern Fenwick (Will Arnett) to save the city and unravel Shredder's diabolical plan. Based on the Teenage Mutant Ninja Turtles Characters Created by PETER LAIRD and KEVIN EASTMAN with a Screenplay by JOSH APPELBAUM & ANDRÉ NEMEC and EVAN DAUGHERTY, Producer MICHAEL BAY (the blockbuster Transformers franchise) and director JONATHAN LIEBESMAN (Wrath of the Titans) bring Teenage Mutant Ninja Turtles, the popular franchise that has captivated audiences of all ages for decades, into the 21st century.