'Draft Day' Review: A Crowd-Pleasing Sports Drama For Fans And Non-Fans Alike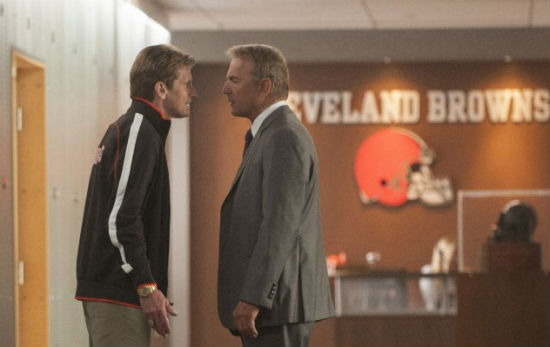 The NFL is a notoriously cautious company. For years, it has not allowed official logos to be used by Hollywood; the NFL did not feel that a negative representation of football benefited the brand in any way. It makes sense, and also casts an odd light on Ivan Reitman's Draft Day, the first film ever officially licensed by the NFL. Obviously, the film does not shine a negative light on the league, something other football films definitely have done. There's no mention of drug use or concussions. The lack of controversy actually works to the film's advantage, creating a very broad entry point to a subject that might initially seem limiting. Draft Day doesn't need controversy or on-field action to create drama.
Draft Day stars Kevin Costner as Sonny Weaver Jr., the general manager of the Cleveland Browns. It's the morning of the 2014 NFL Draft. The draft, for those who may not know, is when NFL teams select eligible college players based on their potential to be professional athletes. We've seen this story from the other side, where a player hopes to be drafted, but never from the business side. Sonny is coming off a losing season, so he has the benefit of a good draft pick, and has to make a selection that will benefit his team, but also get the fans excited. It's a precarious position.
The film's script by Scott Rothman and Rajiv Joseph was #1 on the 2012 Black List of popular unproduced screenplays. It was there for good reason. Draft Day gives a human spin to an interesting, dramatic sports conceit. Not only does Sonny have the pressure of the draft, he's also juggling a relationship with his co-worker Ali (Jennifer Garner), dealing with a demanding owner/boss (Frank Langella), and weighing the hopes and dreams of an entire city.
That's the one thing Draft Day gets exactly right. Not only does it make the sports-specific angle relatable, it does a wonderful job of representing sports fandom. In any sport, the draft is a day fans see as ripe with endless possibility. Your team could add the next Peyton Manning or Michael Jordan, the man who'll change fortunes forever. Or it could be a total waste. That excitement and potential is felt in every frame of Draft Day.
If it seems like there's a lot going on, it's true, there is. To combat the clutter, Reitman employs split-screen throughout the film. Some may find this jarring, and at the start it is to some extent. As the film progresses and events become more intense, the split-screen approach also facilitates the pacing. Draft Day has a steady, kinetic pace that builds from the first minute of the film and never lets up, culminating in one of those goosebump-raising third acts moviegoers dream about.
That's not to say the film is as finely-tuned as a Swiss watch. Transitioning between the behind the scenes sports drama and human relationships feels awkward at times. Those elements are not balanced particularly well; depending on which story you're enjoying more, a romantic detour or sports detour might be frustrating. The cast is so strong, however, you'll be hard pressed not to be won back to the opposing plotline.
Costner is his classic, likable self. Garner holds her own. Denis Leary has fun with a small role as the Browns' new head coach, and the rest of the roles are populated with incredible talent such as Chadwick Boseman, Roseanna Arquette, Terry Crews, Sean Combs, Wade Williams, Ellen Burstyn, Tom Welling, Sam Elliott and Pat Healy. A cast like that doesn't just show up for any movie, and Reitman has created a good one here.
You don't have to be a football fan to enjoy Draft Day. You just have to like entertaining, well-made Hollywood gloss. If you are a football fan, like I am, that'll certainly add to the experience of the film, as it's chock-full of cool inside jokes and incredible access to the NFL. But the way Draft Day combines good characters, great pace and human drama in a unique sports conceit just plain works.
/Film rating: 7.5 out of 10.