'Borgman' Trailer: The Bastard Child Of Luis Buñuel And Michael Haneke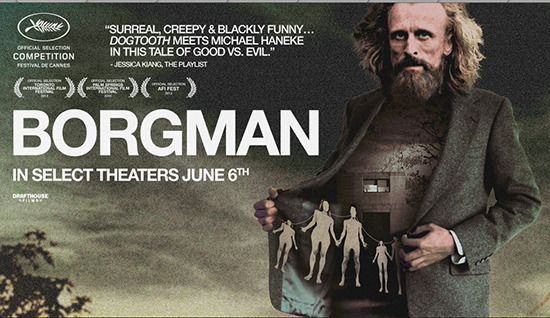 There are some wizards cutting trailers for Drafthouse Films, and this new Borgman trailer is quite good, and very chilling. The film is something of an enigma: a man fleeing a strange persecution turns up on the doorstep of a bourgeois family, and soon ingratiates himself into the family's life, if not without a few difficulties along the way.
The story that follows is like the bastard child of Luis Buñuel and Michael Haneke, with the influence of Dogtooth by Yorgos Lanthimos — an unusual, unsettling, and violent demolition of accepted social politics. This trailer captures the film's spirit; watch below. 
This isn't a film I liked quite as much as I suspected I might — there are some ideas that didn't gel, leaving me cold in the end. But there's no arguing the persuasive oddity of the film's central concepts and characters. Borgman may not be destined to become your favorite cinematic oddity of the year, but it remains a must-see simply for its unique characteristics.
Borgman opens on June 6. Apple has the trailer.
A dark suburban fable exploring the nature of evil in unexpected places, Borgman follows an enigmatic vagrant who enters the lives of an upper-class family and quickly unravels their carefully curated lifestyle. Charming and mysterious, Camiel Borgman seems almost otherworldly, and it isn't long before he has the wife, children and nanny under his spell in a calculated bid to take over their home life. However, his domestic assimilation takes a malevolent turn as his ultimate plan comes to bear, igniting a series of increasingly maddening and menacing events.