'12 Monkeys' TV Show Coming To Syfy In 2015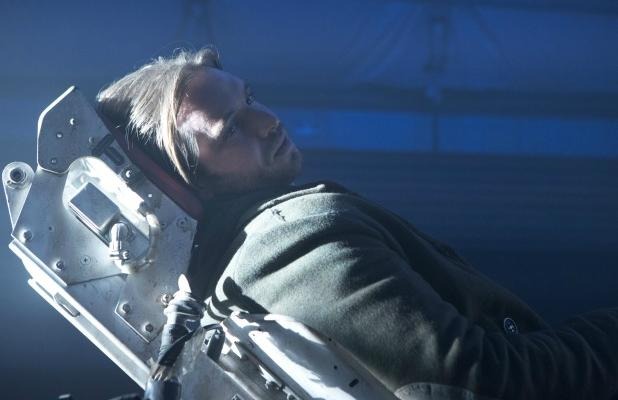 An adaptation of Terry Gilliam's underrated 1995 film 12 Monkeys is coming to TV. A twelve episode series has been ordered for the Syfy network with the aim to premiere January 2015. Charles Roven, who produced the original film as well as many of the DC comic book movies, is on board to produce and veterans of shows such as Friday Night Lives, Nikita, Terra Nova, V and Heroes are also behind the scenes. X-Men star Aaron Stanford will play the lead role of a man sent back in time to destroy a plague. Read more about the 12 Monkeys TV show below.
The Wrap wrote about the news of the show. Terry Matalas and Travis Fickett, who worked on Terra Nova and Nikita, co-wrote the pilot and will be executive producers. Natalie Chaidez (V, Heroes) will be the showrunner and Jeffrey Reiner (Friday Night Lights) directed the pilot.
The president of Syfy, Dave Howe, said the following in a new release:
'12 Monkeys' is a captivating time travel adventure and high stakes race against the clock. We are thrilled to add it to our slate of engaging and thought-provoking new scripted projects, including the recently announced event series 'Ascension' and the second season renewal of 'Helix' from Ron Moore.
Joining Stanford (who, in addition to X-Men appeared on Nikita in an extended role) are Amanda Schull (Suits, Pretty Little Liars), Noah Bean (Nikita, Damages) and Kirk Acevedo (Fringe).
As a fan of the original film, I think expanding the story and giving it more context is an interesting proposition. But, does it really need it? Gilliam's work is so beautiful, perfect and mysterious. Plus, how could anyone ever top Brad Pitt's insane performance?
Twelve episodes of the 12 Monkeys TV show start airing on Syfy in January 2015. Will you be watching? Do you think it's a good idea?