'Let's Be Cops' Red-Band Trailer: Abusing Authority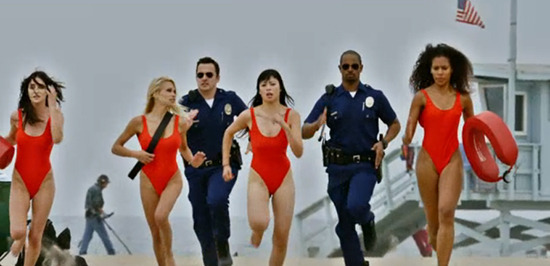 This Let's Be Cops red-band trailer makes the film out to be more of a comedy sketch than a movie. Here we see two friends, played by Damon Wayans Jr. and Jake Johnson, guys who have stalled out in their early '30s, at a loss for outfits for a costume party. They dress as cops, and then find that they really like when people assume they really are cops. Especially when those "people" are women who might want to have sex with them, or children that can be intimidated.
And that... pretty much seems to be the movie. Sure, there's probably also a life lesson or two and maybe something about personal growth. But this red-band trailer is all about the joke concept and nothing else. At least Keegan Michael Key shows up. Check out the trailer below.
Let's Be Cops opens on August 13. Yahoo has the trailer.
It's the ultimate buddy cop movie except for one thing: they're not cops.  When two struggling pals dress as police officers for a costume party, they become neighborhood sensations.  But when these newly-minted "heroes" get tangled in a real life web of mobsters and dirty detectives, they must put their fake badges on the line.